Attorney: Imposter police officers working in Nashville
Security officers working downtown, at malls with vests that read "police."
Published: Apr. 27, 2023 at 6:25 PM CDT
NASHVILLE, Tenn. (WSMV) - Along with shoppers and security, dressed in dark navy, walking the halls of Opry Mills mall on Friday, April 21, was Nick Jordan.
He strolled among side other security, many wearing the word "police" on vests or patches.
Jordan, wearing a gun like his peers, also wore one of the patches, too, in bright yellow, reading "police."
When asked by WSMV4 Investigates if he was wearing a police patch, he replied, "Yes, sir."
What no one at the mall would have known is that last year Jordan pleaded guilty to impersonation of a police officer.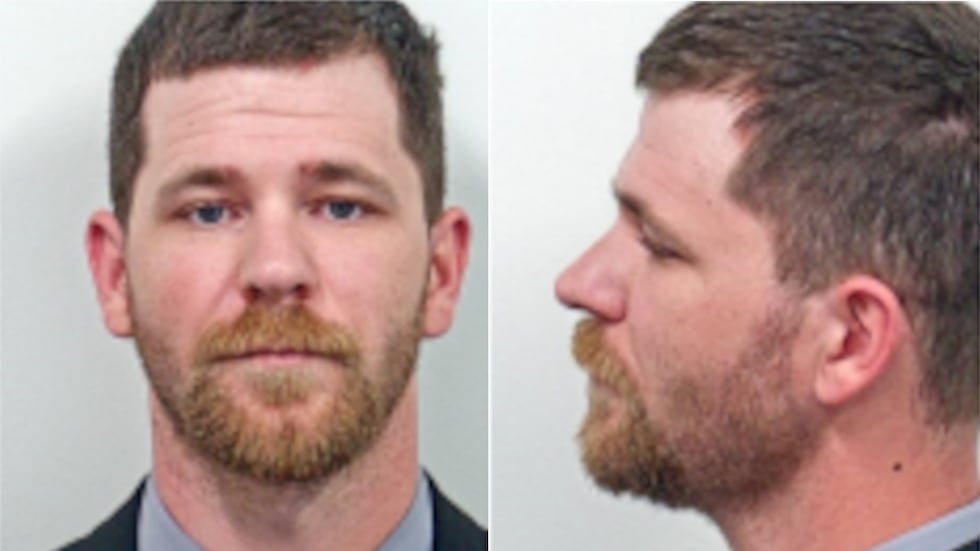 That's because Jordan is not a certified police officer, meaning he has no license from the state.
Yet a WSMV4 Investigation found Jordan and others, none who are certified police officers, wearing uniforms, vests and badges identifying them as police.
In one case, WSMV4 Investigates found social media video of a man wearing police gear in downtown Nashville and the Opry Mills mall who is under investigation for impersonating a police officer in Watertown, accused of pulling over cars using blue lights.
"This is a public safety issue. These folks are indistinguishable from real police officers," said attorney David Raybin, a former district attorney who represents law enforcement in Middle Tennessee.
THE THIN BLURRED LINE
When WSMV4 Investigates approached Jordan, and he acknowledged that he was wearing a police patch, we then asked if he was a police officer.
"I'm not allowed to answer any questions that are media related," Jordan said.
But we have a lot of questions for Jordan.
In 2018, Shelbyville police records show after earning his police certification, Jordan quit the department after being recommended for termination after being accused of unwanted touching.
According to a spokesman for the Peace Officers Standards and Training Commission (POST), which certifies police officers, when officers leave police departments, their certification is lost until they rejoin another department.
In 2021, records from the Rutherford County Sheriff's department show that Jordan was charged with impersonating a police officer, when he was caught using blue lights to conduct traffic.
According to the arrest report, Jordan admitted he was not a police officer.
In 2022, Jordan pleaded guilty to the crime, but you can't find it on his record because it was expunged just this week.
Despite all of that, Jordan was wearing his police patch while working mall security on April 21, and refused to answer any questions.
"You want to make sure when you say, officer can you help me, or officer, I need help, that person is a real police officer," Raybin said.
And Jordan isn't an isolated case.
Earlier this month, WSMV4 Investigates observed Mason Schweppe wearing two patches that read "POLICE" as he directed traffic on Broadway.
We watched as Schweppe worked alongside two off-duty police officers, wearing identical uniforms to them, also carrying a gun.
Another photograph obtained by WSMV4 Investigates shows Schweppe wearing a vest while working downtown with the word "POLICE."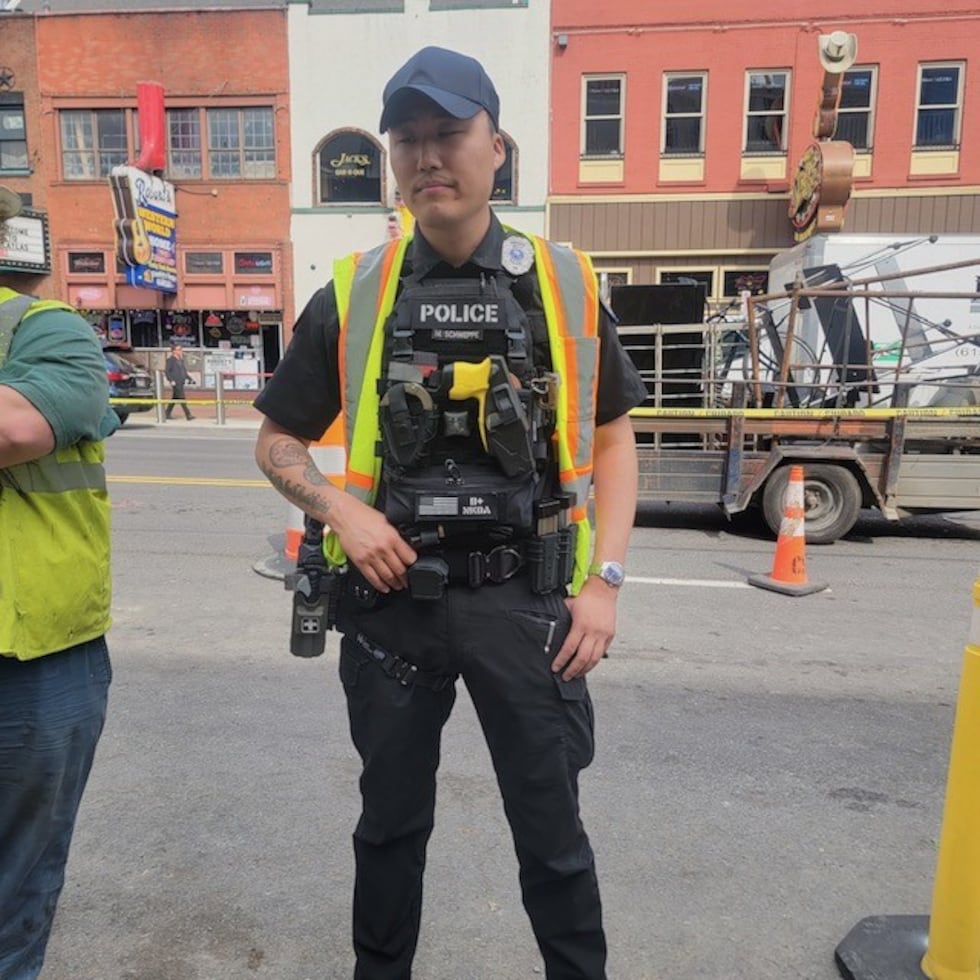 According to POST, it has no records of anyone with the last name of Schweppe being certified, nor do they have records of him working even as a reserve officer for any Tennessee police department.
"Are you a police officer?" WSMV4 Investigates asked Schweppe.
"I am. We're all doing off duty work," Schweppe said.
"Are you a certified police officer?" asked WSMV4 Investigates.
"I am," Schweppe said.
"I looked up your background and you are not a certified police officer. You said that you're certified but you're actually not in the state of Tennessee," asked WSMV4 Investigates.
"Correct," Schweppe said.
"But you're wearing a badge that says police," asked WSMV4 Investigates.
"Private duty, though," Schweppe said.
Schweppe's patch reads, "Private Duty Police TN."
WSMV4 Investigates asked Raybin if he's ever heard of a private duty police officer.
"There's no such thing," Raybin said.
In an email to WSMV4 Investigates, a spokesman for POST wrote, "As far as uniforms, state laws have prohibitions related to the style of uniforms and badges worn by security guards or use the word "police" on the uniform."
"They're violating the law," Raybin said. "The harm is that the public is confused. The other police officer that may need assistance, they may be confused," Raybin said.
We also found Chris Tubbs, a frequent use of Tik Tok, who features several videos and pictures of him wearing shirts and vests that read, "POLICE," while he worked in downtown Nashville and at the Opry Mills mall.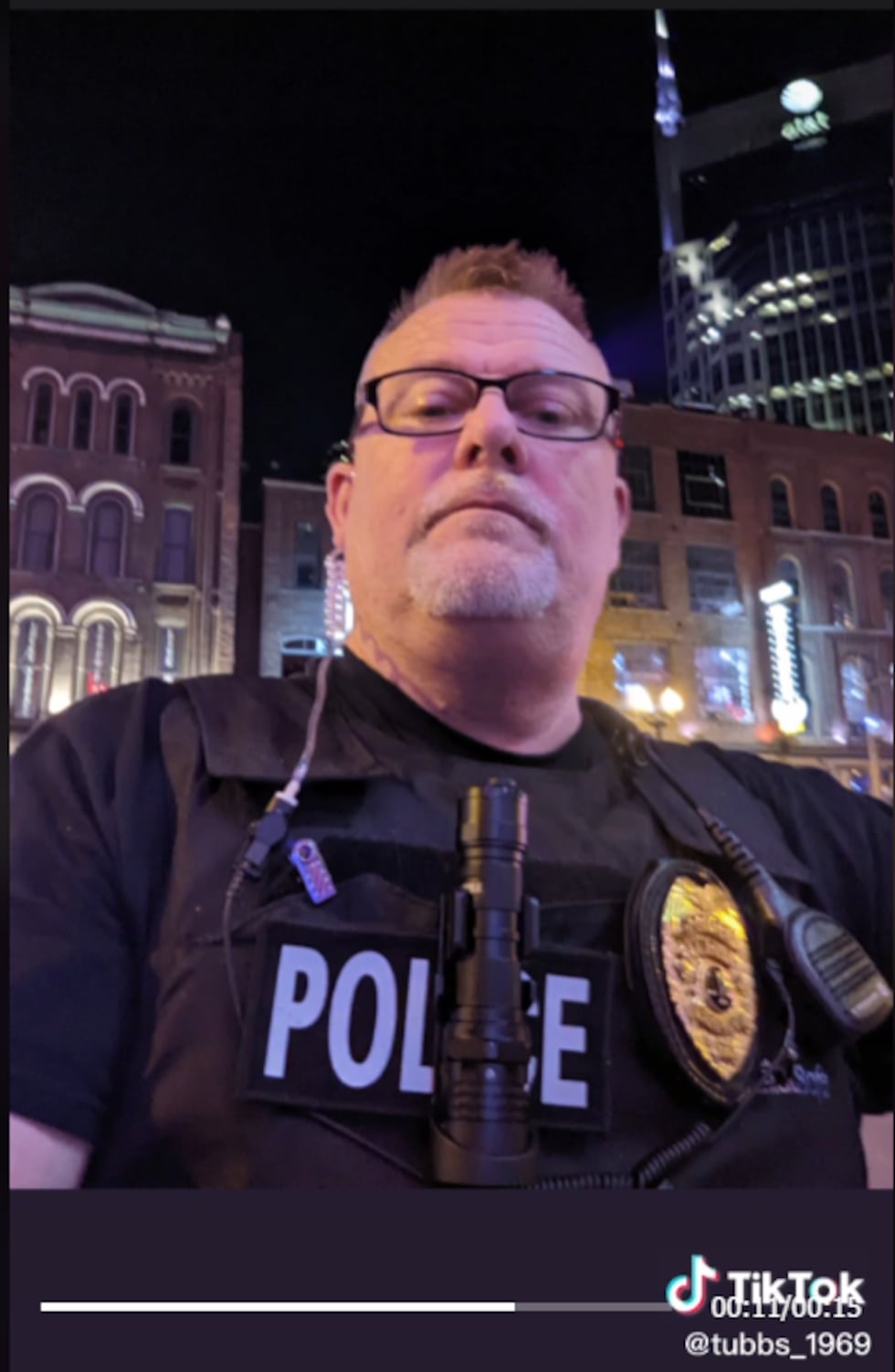 The spokesman for POST confirmed that Tubbs had no certification at the time he posted those videos.
WSMV4 Investigates also obtained a complaint about Tubbs filed this month with the Tennessee Private Protective Services, the state program that certifies security officers.
The complaint claims that Tubbs was impersonating a police officer while pulling over cars in Watertown, Tennessee, in his private vehicle using blue lights.
WSMV4 Investigates reached Tubbs by phone.
"When you were wearing the uniforms in 2022 (in the Tik Tok vidoes) you were not a certified police officer," WSMV4 Investigates.
"No, I mean, sure wasn't. Not going to lie to you about it, not going to lie to nobody about it," Tubbs said. "I did it for the money, I'll be honest with you."
Tubbs then said he did not want to talk about anything else and asked to be left alone.
"If you're running around with a gun, with a bullet proof vest and a thing that says police on it with a badge, you're violating Tennessee law. There's no question about it," Raybin said.
WSMV4 Investigates has several questions for the security companies that the men either are or were working for, including if they screen all off-duty officers to make sure they're certified.
We will report our findings when or if those companies speak with us.
Copyright 2023 WSMV. All rights reserved.