COVID-19 patient talks from hospital bed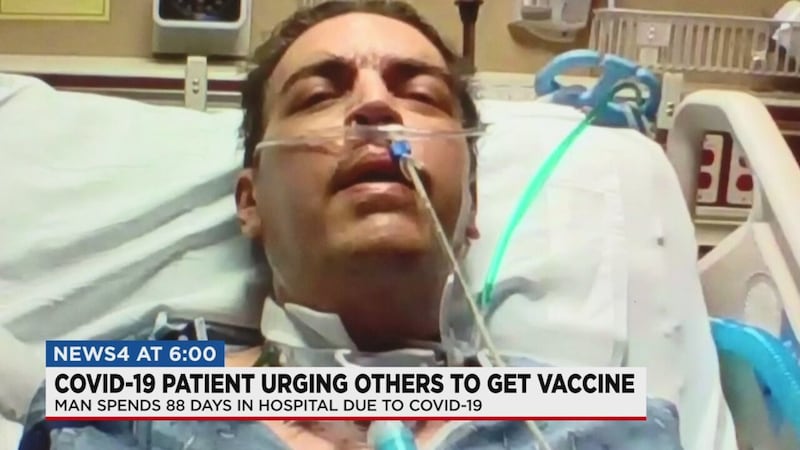 Updated: Aug. 16, 2021 at 5:47 PM CDT
NASHVILLE, Tenn. (WSMV) - A Nashville man has a change of heart regarding the COVID-19 vaccine and wears masks after spending the last 88 days inside Tri-Star Medical Center in Nashville.
Steve Sechler, 43, was admitted into the hospital on May 21. Since then, he's suffered severe complications from the virus. Sechler spent time in a coma relying on a ventilator, leaving his limbs without the strength to walk.
"My main goal here is to make it, so people don't end up like me," Sechler said from inside of his hospital room via WebEx.
With nurses and doctors by his side during the interview with News4, there were moments his breathing was difficult. Before his COVID-19 diagnosis, Sechler says he was in good health with no pre-existing conditions. But, crippled by complications of the virus, nurses say he's lost between 40 to 50 pounds.
"I can't walk. All of my muscles are weak. I have a hard time breathing," Sechler said.
Doctors say his lungs were the most damaged they'd ever seen. But, recently, Sechler has made significant improvement after doctors thought he'd never get off of the breathing machine.
"We never even expected him to get off ECMO, so not only did he get off ECMO which speaks to his will to live now he's just on oxygen not requiring a ventilator, so he has a tremendous will to live," Dr. Elliot Cohen, the hospital's ICU Medical Director said.
Sechler wanted to share his story and plea to the public to take this virus seriously so they can hopefully avoid the medical situation his facing right now.
"I know there's arguments all over the country about the vaccine and the mask, and I just want it to be none the cost-benefit is that the vaccine will help you. If you end up like me, you will regret it," Sechler said.
Doctors said Sechler would get a lung transplant, but right now, their main goal is to get home with oxygen.
Copyright 2021 WSMV. All rights reserved.