Anchor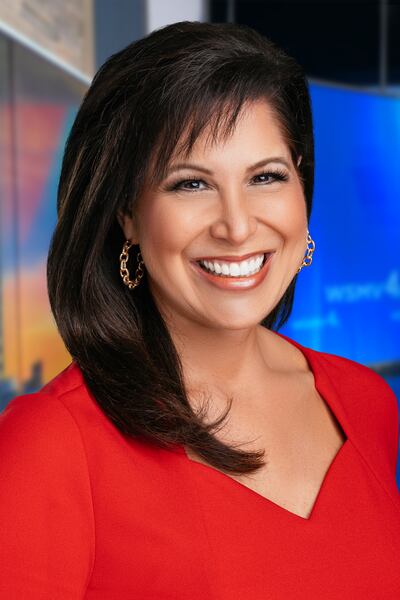 Holly Thompson is a nine-time Emmy Award and multiple Associated Press award-winning journalist who's ready to wake you up in the mornings! She co-anchors WSMV4 Today and also anchors WSMV4 at Noon.
She produces and reports special reports and news segments throughout the year. Holly joined the WSMV4 news team in June 1997. She's literally tried every hat in the television business - producing, shooting, writing, editing, anchoring, reporting and even spending some time as a weathercaster at the CBS affiliate in the Tri-Cities (Johnson City, Bristol, Kingsport).
Holly sharpened her reporting skills while in St. Louis and Washington, D.C. She graduated with Distinction of University Honors from Middle Tennessee State University, receiving her degree in Mass Communications. Holly received the university's Young Alumni Achievement Award and graduated from Georgetown University's Institute on Political Journalism.
Holly is the spokeswoman for the Tennessee Breast Cancer Coalition. She has served as a "Big Sister" in the Big Brothers/Big Sisters Program and a board member of the American Heart Association. She has served consecutive terms on the Heart Gala Board and on the Honors Executive Committee for MTSU's Honors Program.
Holly speaks to dozens of organizations throughout the year. She's also a motivational speaker for various business groups and Christian conferences.
Holly has emceed hundreds of events over the years, including the American Heart Association's Heart Gala, Tennessee's Teacher Hall of Fame Induction and MTSU's President's Ball.
She is a member of Long Hollow Baptist Church, where she and her husband teach Sunday School, and she's a mentor in the Women's Ministry.
Holly has also been a contributing writer for both ParentLife and BabyLife magazines.
The most recent addition to her hobby list is scrapbooking (love it!), but she also enjoys horseback riding, music, shopping, movies and, above all, family time. She loves to travel and said she's always looking for the next adventure.
Holly is homegrown and grew up in East Tennessee. She and her husband live in Hendersonville with their two boys, who she calls the most incredible blessings in her life.
Why I love living in Nashville: The people! I grew up in Tennessee, and the folks here are some of the friendliest I've ever met. In my younger years, my family lived out in the country and nobody would drive by without waving, even if you didn't know them! That's the South, that's Nashville, and I love it!
Hobbies: OK, my hobbies USED to be shopping - which I absolutely love - going to the movies - love to catch the latest flick - working out at the gym, horseback riding, occasionally golfing and traveling. HOWEVER, my most fulfilling hobby supersedes the previous listing - that of loving and caring for my two boys. Oh, what a joy and a true blessing. My husband and I found a whole new level of love - the love a mother and father have for their children. Wow! I never dreamed it could be so powerful - and demanding!
Favorite Movies: The Blind Side and Remember the Titans.
Favorite TV Shows: Fixer Upper, Madam Secretary and Designated Survivor.
Most Memorable Story: There are so many meaningful stories out there, but I would have to say the most incredible story involved the U.S. Air Force Thunderbirds, and I actually got to fly with them! Oh, how scary, but oh, how exciting! They even prepped me on what to do if we had to eject - not the words you want to hear before the flight. I even got to "pilot" the F-16 jet myself for a few seconds. They are true professionals who really know their job and do it with great precision and great enthusiasm, and I was impressed!
Favorite Time of Year: No question here - definitely Christmas! The holiday season of giving, celebrating Christ's birth, the special family time with loved ones, the excitement, the Christmas trees, the twinkling lights, smell of cinnamon, the festive decorations and, of course, the occasional snow that gets everyone so excited!
One Thing Most Folks Don't Know About Me: Years ago, I played in a Christian Rock Band (the long hair and all)!