Meteorologist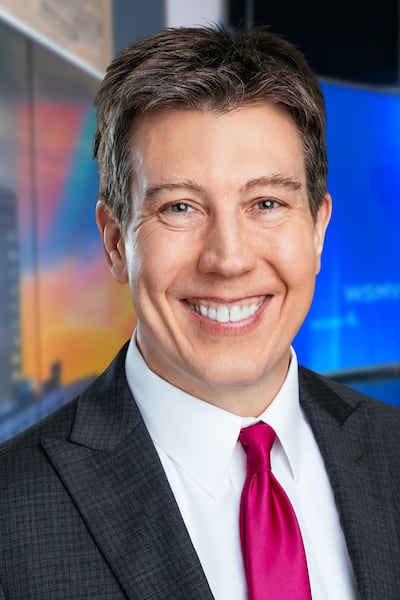 Dan Thomas has been a weather fanatic for as long as he can remember. As a small child, in his hometown of North Andover, MA, he loved to stare out the window, watching New England's powerful ocean storms. To this day, he still has a cassette recording from when he was 6 years old, on which he said, "It's rainy, snowy, windy ... That's all the news for now. This is Danny Thomas."
Needless to say, he's living out his dream.
Dan's passion for weather led him to The Pennsylvania State University, where he earned bachelor's and master's degrees in meteorology. While at Penn State, he worked as a part-time, on-air meteorologist for WPSX-TV. He also joined the Air Force Reserve Officer Training Corps and was commissioned as a lieutenant upon graduation.
After graduate school, Dan began his military career at Moody Air Force Base in Valdosta, GA. He deployed to the Middle East, where he briefed pilots on weather conditions for their training missions over Iraq's no-fly zone. He completed his active duty military service in the fall of 2000 as a captain, leading a 15-person organization in weather operations at Vance Air Force Base in Enid, OK.
After his time in the military, Dan began his full-time career in television as the morning meteorologist for KHBS/KHOG-TV in Fort Smith/Fayetteville, AR. For the following two years, he chased and tracked severe thunderstorms all across western Arkansas and eastern Oklahoma.
From tornado alley, Dan moved to "hurricane central" - New Orleans - in early 2003 to work as a broadcast meteorologist for WDSU-TV, the NBC affiliate. While there, he covered more than a half dozen hurricanes and tropical storms that hit the southeastern United States. His coverage of Hurricane Frances in 2004 earned him "First Place for Breaking Weather" from the Louisiana Associated Press.
Most notable was Dan's coverage leading up to and during Hurricane Katrina. Dan warned viewers of the impending devastation during the final hours of preparation and the first hours of impact. He rode out the storm on the 11th floor of the Hilton Hotel in New Orleans. Dan recalls the room began creaking eight hours before landfall. The hotel beds began shaking two hours before landfall, due to the increasing wind. It was at that point that Dan and several coworkers evacuated to the hotel lobby for safety. The following day, as flood waters rose and crime escalated, Dan and his remaining coworkers evacuated to a sister station in Orlando, FL, where they remained for the following two months.
Dan moved to Nashville and joined the WSMV team in August 2006. In May 2009, Dan was certified by the American Meteorological Society as a Certified Broadcast Meteorologist, which involves passing very rigorous testing and standards. He joins First Alert Meteorologist Lisa Spencer as a recipient of this certification. WSMV is the only television station in Nashville with two CBMs.
Dan's thrilled to call this area home with its gorgeous terrain, ever-changing weather, and very kind people. When not in the office, Dan loves spending time with his wife and two children. He says coaching his son's baseball and basketball teams and watching his daughter's horseback riding lessons and basketball games are among his favorite things to do. He doesn't take a moment of quality time spent with his family for granted. During his "me-time", he likes to go running, lift weights, play tennis, golf, and even tend to his many flowers and palm trees (that's right…palm trees, even in Middle Tennessee)!