First Alert Forecast: Rain, wind cause travel troubles this morning
Conditions should dry out for Thanksgiving.
Published: Nov. 21, 2023 at 4:10 AM CST
|
Updated: Nov. 21, 2023 at 4:43 AM CST
NASHVILLE, Tenn. (WSMV) - A WIND ADVISORY continues until 6 a.m. for east Middle Tennessee with wind gusts near 40 mph possible.
The heaviest rain is working its way out of the Mid State, but we'll still have some wet spots through our morning commute.
As that strong storm system moves to the east it's a good idea to check up on flights with your local airlines if you're traveling anywhere along the east coast today.
After the last shower taper off this morning, it will be cooler and still breezy with highs in the upper 50s and lower 60s.
Download the WSMV 4 First Alert Weather app for iPhone or Android. Our team of meteorologists will send alerts to your phone about conditions headed your way. They also share custom videos about the weather where you live.
Have weather pictures or videos? Share them here.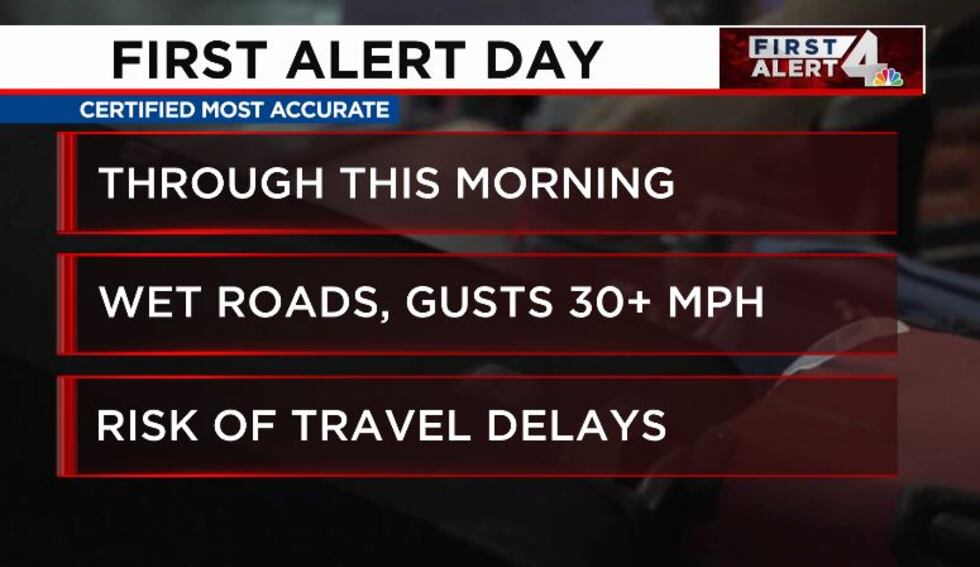 MID-WEEK
Thankfully, our weather will calm down for Wednesday and we'll just have to fight with the afternoon cloud cover. Highs Wednesday afternoon will have a tough time even getting back near 50. Lows Wednesday night will be near freezing so we can expect a cold and frosty start to our Thanksgiving day.
Thanksgiving will be warmer with temperatures back in the upper 50s under a mix of clouds and sunshine.
LATE WEEK AND THIS WEEKEND
Temperatures will hold steady in the 50s Friday and even though I can't totally rule out a shower, most of us stay dry.
We'll stay in the 50s on Saturday but get some more sunshine in the afternoon. Clouds return on Sunday, along with an isolated shower and temperatures in the 50s again.
Copyright 2023 WSMV. All rights reserved.