First Alert Forecast: Storm will make for tricky holiday travel
A First Alert Weather Day remains in effect through the Tuesday morning commute.
Published: Nov. 20, 2023 at 2:58 PM CST
|
Updated: Nov. 21, 2023 at 12:42 AM CST
NASHVILLE, Tenn. (WSMV) - A First Alert Weather Day remains in effect through the morning commute as a disruptive storm system will bring heavy downpours and gusty winds to the Midstate.
Download the WSMV 4 First Alert Weather app for iPhone or Android. Our team of meteorologists will send alerts to your phone about conditions headed your way. They also share custom videos about the weather where you live.
Have weather pictures or videos? Share them here.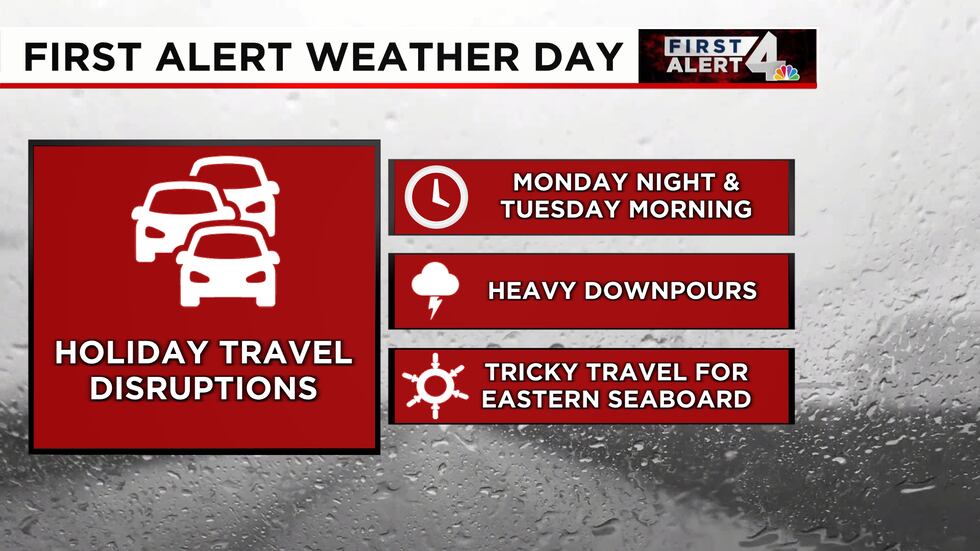 THROUGH TUESDAY:
There is a WIND ADVISORY in effect through 6 a.m. Tuesday with wind gusts near 40 mph possible. Those in the Cumberland Plateau may see gusts up near 50 mph at times.
Heavy rain, and even a few embedded storms will build in through the evening commute and last into the middle of our night before tapering off early Tuesday. While no flooding is expected, ponding on roadways is likely to stick around through the morning commute tomorrow.
After the rain tapers off tomorrow, we're left with clouds and cooler temperatures. Highs will be in the low 60s Tuesday.
WEDNESDAY AND THANKSGIVING:
The sky will be clearer and breezy and chilly conditions will persist Wednesday and Thanksgiving.
Wednesday will be much calmer with a mix of sun and clouds and highs in the upper 40s to lower 50s.
Thanksgiving looks great! A decent amount of sunshine is expected early on with clouds increasing by the evening. Highs will be in the middle to upper 50s.
THIS WEEKEND:
Expect morning lows in the 30s and highs in the 50s on Friday, Saturday and Sunday. Isolated showers are possible on Friday and Sunday as disturbances moves through, otherwise the sky will be a mix of sun and clouds.
NEXT WEEK:
Monday will be partly sunny with isolated showers and a high in the low 50s.
Copyright 2023 WSMV. All rights reserved.