First Alert Forecast: Heavy rain to impact Thanksgiving travel
A First Alert Weather Day has been issued for Monday night and Tuesday
Published: Nov. 18, 2023 at 4:26 PM CST
|
Updated: Nov. 18, 2023 at 10:48 PM CST
NASHVILLE, Tenn. (WSMV) - A First Alert Weather Day has been issued for Monday night into Tuesday due to heavy downpours that could disrupt Thanksgiving travel plans
Download the WSMV 4 First Alert Weather app for iPhone or Android. Our team of meteorologists will send alerts to your phone about conditions headed your way. They also share custom videos about the weather where you live.
It'll be a chilly night across the Mid State with temperatures falling into the 30s widespread. Grab the jacket as you head out the door Sunday. Highs will be in the low 60s with a partly cloudy sky.
Monday will feature highs around 70º with increasing clouds. Rain showers will begin to develop late in the day Monday lingering into the first half of Tuesday.
FIRST ALERT WEATHER DAY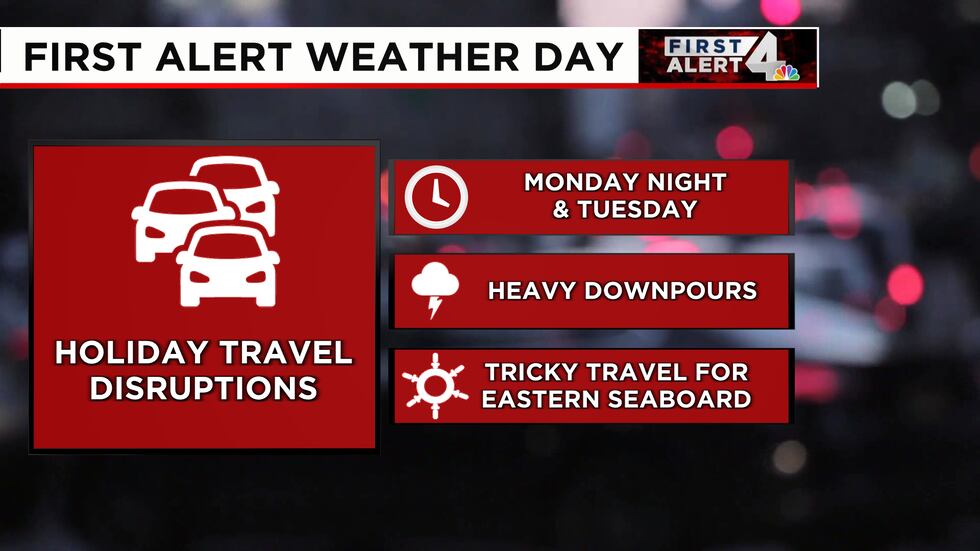 Heavy rain is expected at times along with winds gusting up to 30 mph. No severe weather is expected. Tuesday will be a busy travel day for many, so allow yourself extra time to get where you're going. If you are flying, check your flight status regularly, as delays elsewhere can impact your flight times.
Have weather pictures or videos? Share them here.
Wednesday will be the busiest travel day, according to AAA, but it will be a much quieter weather day across the Mid State. Dry conditions, partly cloudy skies, and cooler temperatures in the mid 50s are expected.
Thanksgiving looks great! Skies will be partly cloudy and highs will be in the 50s again.
Copyright 2023 WSMV. All rights reserved.