First Alert Forecast: Showery Friday afternoon
A First Alert Weather Day has been issued for Tuesday for potential holiday travel disruptions.
Published: Nov. 17, 2023 at 12:26 PM CST
|
Updated: Nov. 17, 2023 at 12:35 PM CST
NASHVILLE, Tenn. (WSMV) - Rain will exit to the east by mid-late evening, tonight.
Download the WSMV 4 First Alert Weather app for iPhone or Android. Our team of meteorologists will send alerts to your phone about conditions headed your way. They also share custom videos about the weather where you live.
Have weather pictures or videos? Share them here.
THROUGH TONIGHT:
Rain showers will continue from time to time this afternoon and this evening.
Clouds will persist, so temperatures will hold in the mid 60s through 5 pm. Thereafter, they'll begin dropping into the 50s. Rain will exit the Mid State by 11 pm.
THIS WEEKEND:
Early tomorrow, we'll have a light north breeze making it feel colder than our start temperatures in the 40s.
The afternoon looks mostly sunny and pleasant with highs around 60°.
Sunday will start even colder -- around freezing or just above.
The afternoon looks beautiful, although a few clouds will begin to move in. High, 63.
NEXT WEEK:
A major storm system will affect the Mid South and Deep South early next week.
On Monday, light rain showers will begin to develop, as a light easterly breeze kicks in.
Monday night, rain will increase in coverage and intensity.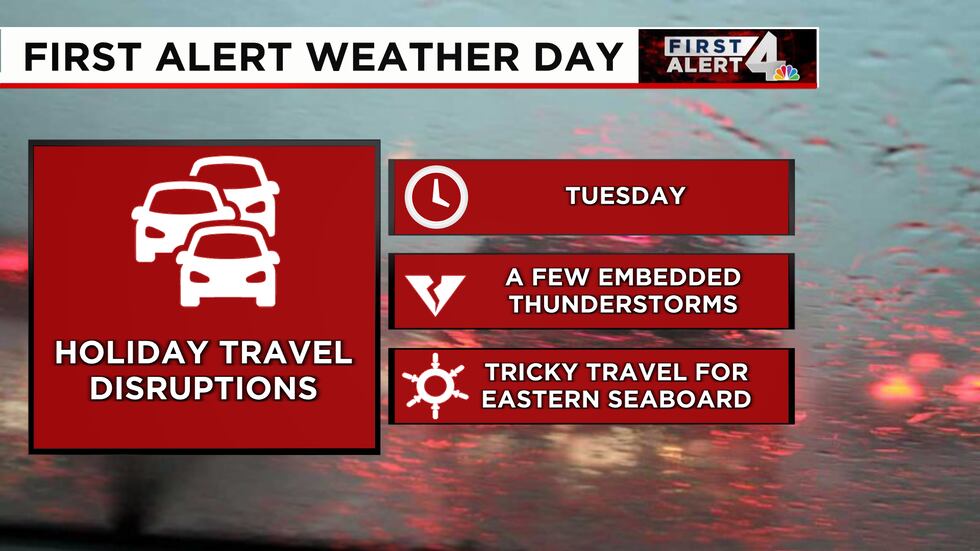 A First Alert Weather Day has been issued for Tuesday, for the potential for holiday travel disruptions. Tuesday looks especially wet. There will be some heavy downpours & potentially some embedded thundershowers. Expect travel delays. People flying toward the east may have travel impacts too. Delays will be most likely on Wednesday in the Northeast, as that storm system affects major cities there.
Meanwhile here, sunshine will return on Wednesday, but it'll be cooler.
Thanksgiving/Thursday will be gorgeous, with lows around freezing and highs in the 50s.
Copyright 2023 WSMV. All rights reserved.