First Alert Forecast: Near record warmth this afternoon
Cooler weather will take over this weekend.
Published: Nov. 16, 2023 at 12:25 PM CST
|
Updated: Nov. 16, 2023 at 12:27 PM CST
NASHVILLE, Tenn. (WSMV) - Rain showers return tomorrow, so be sure to take an umbrella.
Download the WSMV 4 First Alert Weather app for iPhone or Android. Our team of meteorologists will send alerts to your phone about conditions headed your way. They also share custom videos about the weather where you live.
Have weather pictures or videos? Share them here.
THROUGH TOMORROW:
This afternoon will be partly cloudy and very warm. Temperatures will approach record levels. Nashville's top temperature will be 77°.
Tonight will stay mild with temperatures bottoming out near 60 degrees in the morning.
Friday will be mostly cloudy with scattered showers. Some of those showers will even linger into the evening. This will be a light rain event. Rain totals from this will be a tenth of an inch or so.
THIS WEEKEND:
Saturday and Sunday both look cooler.
Saturday will kick off with a breeze, some sunshine, and temperatures in the 30s and 40s.
That breeze will settle down some during the afternoon. It'll remain cool though, in the 50s.
Sunday will start with freezing weather. Clouds will gradually increase during the afternoon. High, 62°.
THANKSGIVING WEEK:
Rain showers will move in early on Monday and linger through the afternoon.
Monday night looks wettest, with a few downpours possible.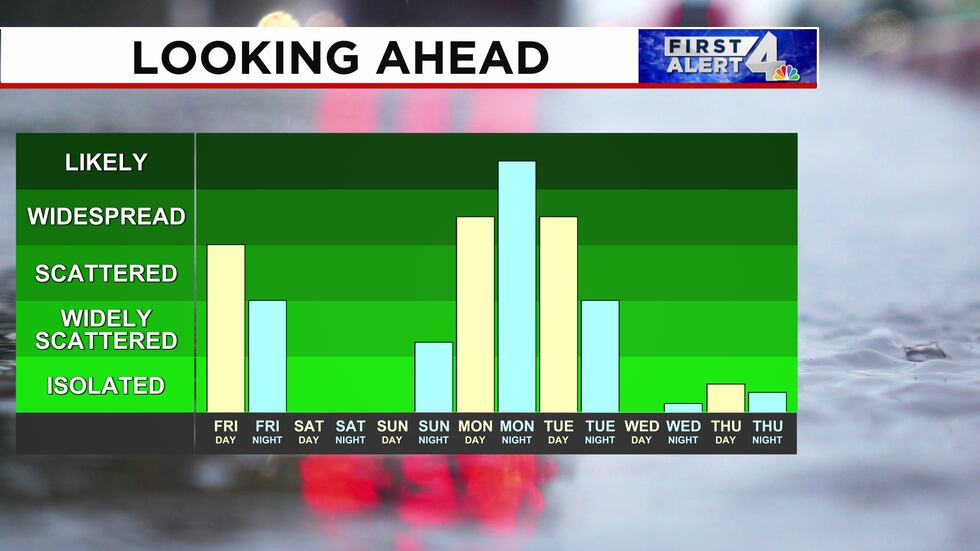 On Tuesday, rain will slowly exit to the east.
Wednesday looks partly cloudy and chilly.
Thanksgiving/Thursday looks similar, with lows around freezing and highs in the mid 50s.
Copyright 2023 WSMV. All rights reserved.