First Alert Forecast: Rain moves in Friday and again next week
Cooler weather over the weekend
Published: Nov. 15, 2023 at 2:55 PM CST
|
Updated: Nov. 15, 2023 at 9:22 PM CST
NASHVILLE, Tenn. (WSMV) - Two rain systems will impact Middle Tennessee weather over the next seven days.
Download the WSMV 4 First Alert Weather app for iPhone or Android. Our team of meteorologists will send alerts to your phone about conditions headed your way. They also share custom videos about the weather where you live.
Have weather pictures or videos? Share them here.
THROUGH TOMORROW:
Overnight looks uneventful and pleasant, although an isolated sprinkle can't be ruled out.
Tomorrow will feature a little more sunshine during the afternoon. With that, temperatures will rebound from an early start in the upper 40s to the low-mid 70s.
FRIDAY RAIN:
Friday will bring more clouds and a few rain showers. This system won't be a heavy rain event. In fact, most areas will pick up just one to two tenths of an inch of rain at most. The high will be near average in the mid 60s.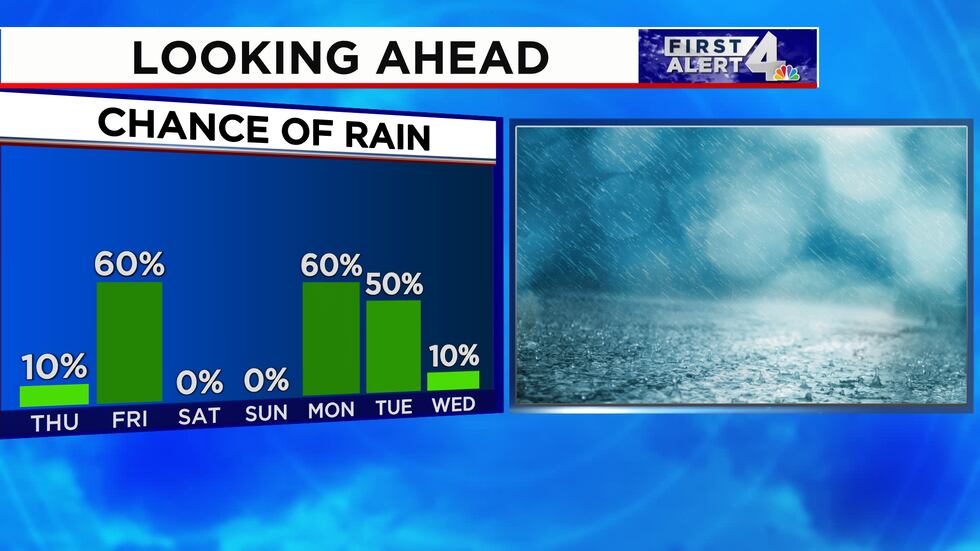 THIS WEEKEND:
Drier and cooler weather is on tap for this weekend.
Saturday will be breezy and cool. The high will stay in the upper 50s.
Sunday morning looks cold, in the 30s, but then will turn pleasant in the afternoon with increasing high clouds and a light wind. The high will be in the low 60s.
NEXT WEEK:
Rain will return to the Mid State for Monday and part of Tuesday. That system will bring 1/2″ to 1″ of rain to most of us. Highs both days will be in the low 60s.
THANKSGIVING PREVIEW:
Drier weather for Wednesday and Thursday/Thanksgiving Day.
Wednesday should be in the 50s.
Highs in the 60s will be common on Thursday.
Copyright 2023 WSMV. All rights reserved.