First Alert Forecast: Two systems set to bring rain
Mild temperatures continue the next couple of days
Published: Nov. 14, 2023 at 3:07 PM CST
|
Updated: Nov. 14, 2023 at 8:04 PM CST
NASHVILLE, Tenn. (WSMV) - Lots of clouds with mild temperatures that are slightly above average expected the next couple of days. Two rainy systems coming Friday and early next week.
Download the WSMV 4 First Alert Weather app for iPhone or Android. Our team of meteorologists will send alerts to your phone about conditions headed your way. They also share custom videos about the weather where you live.
Have weather pictures or videos? Share them here.
THROUGH TOMORROW:
Tonight looks pleasant and cool. Temperatures will drop from the 50s during the evening to the 40s first thing tomorrow.
Tomorrow looks variably cloudy, like today. Temperatures will be very similar with a light southeast wind. A sprinkle or very light, brief rain shower will be possible over southern Middle Tennessee late in the day, into the evening.
THURSDAY:
On Thursday, the storm system responsible for this week's clouds will begin to move away. Most areas will get into a little more sunshine by late afternoon. Temperatures will rise from the mid-upper 40s to the low 70s by late in the day.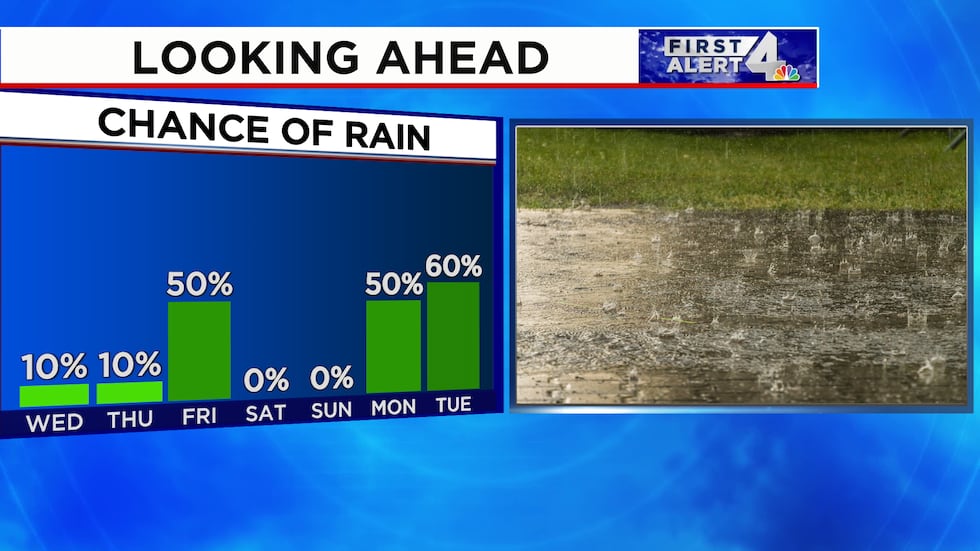 FRIDAY:
Friday, rain showers will move in once again. It will be completely cloudy and cooler with highs in the low-mid 60s. Some of that rain will linger into Friday evening.
THIS WEEKEND:
Drier, cooler weather is on the way this weekend. On the heels of a cold front, we'll have a light northerly breeze on Saturday. Highs throughout the state will be in the 50s.
Sunday morning looks cold, in the 30s.
Sunday afternoon will be cool, but very pleasant, near 60. Expect sunshine and less wind than on Saturday.
NEXT WEEK:
Monday will bring more clouds, a strengthening southeast breeze, and a few late day rain showers.
More showers are likely Monday night.
Tuesday will be wet with rain likely.
That rain system will exit to the east Wednesday, setting the stage for a sunny and cool Thanksgiving Day. Early bird indications are that temperatures will be in the 50s on Thanksgiving afternoon.
Copyright 2023 WSMV. All rights reserved.