Tide takes the game, 34-20
Vols look for back to back wins in the series for the first time since the '03 and '04 seasons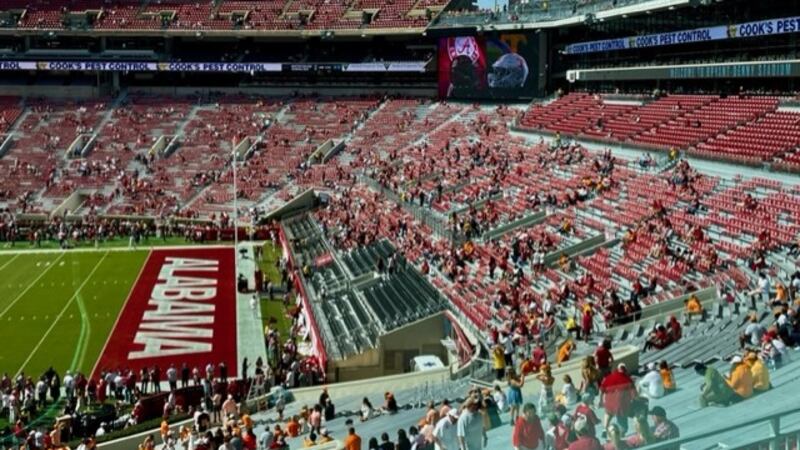 Published: Oct. 21, 2023 at 1:59 PM CDT
|
Updated: Oct. 21, 2023 at 6:20 PM CDT
KNOXVILLE, Tenn. (WVLT) - Following three consecutive home wins, No. 17 Tennessee takes its show on the road today for its annual Third Saturday in October rivalry game against No. 11 Alabama.
The Volunteers will look to make it two straight wins against the Crimson Tide after ending a 15-game losing streak with a thrilling 52-49 victory last season in Knoxville.
Kickoff is coming up at 3:30 p.m. ET on WVLT.
1ST QUARTER
On their third possession the Vols strike again. A long, physical 15 play, 79 yard drive that took over 5 minutes off the clock and included some option runs, quarterback draws and clutch pass completions to Ramel Keyton and Squirrel White. Drive culminates in a 24 yard Charles Campbell FG giving Tennessee a 10-0 lead.
The opportunistic Vol defense then steps up with a big play. James Pearce Jr. pressures Jalen Milroe forcing a fumble. Vols recover and add another Campbell FG, this time from 26 yards out and Tennessee jumps out to a 13-0 lead with :11 remaining in the 1st quarter. The lead is Tennessee largest in Tuscaloosa since 1999.
2ND QUARTER
After giving up a big play, Bama's first of the game, the Vol defense stiffens thanks to an Omar Norman-Lott sack. Tennessee has 10 first downs in the game to Alabama's 2!
Bama finally answers with a 59 yard drive in 9 plays capped off by a 10 yard Jalen Milroe to Jermaine Burton TD pass. Vols lead Tide 13-7 with 7:05 remaining in the half.
Defense turns to offense! Jaylen McCollough picks off Milroe in the end zone. Vols drive 80 yards in 2:58 and say what red zone issues as Milton connects with McCallan Castles from 6 yards out. Gabe-Jeudy Lally sacks Milroe as time runs out. The Vols take a 20-7 lead into the half in Tuscaloosa!
3RD QUARTER
Whatever Nick said at the half worked. Tide rolls with a 2-play, 75 yard drive scoring on a Jalen Milroe 46 yard TD pass to Isiah Bond. Took all of :41 and it's 20-14 Vols early in the 3rd.
Vols go 3 and out on their 1st possession of the 2nd half. Bama drives into UT territory again, but the defense holds. Will Reichard connects on a 42 yd. FG The lead cut to 20-17 at the 8:33 mark of the 3rd quarter.
Alabama takes advantage of UT's failed 4th down conversion by driving 47 yards in 5 plays capped off by a 5 yard Jase McClellan TD run. PAT makes it 24-20 Tide. Bama's first lead on this Third Saturday of October.
Well an ugly 3rd quarter has come to an end for Tennessee. Three penalties including a holding deep in their own territory and another failed 4th down conversion. Tide takes a 24-20 lead into the 4th.
4TH QUARTER
The Tides' momentum continued into the fourth quarter. Alabama added 10 more points in the quarter to pull away.
Tennessee's best chance to get back in the game happened after Alabama took a 27-20 lead. But Joe Milton III was sacked, and fumbled the ball. The ball was scooped up by Jihaad Campbell, who ran it into the end zone for a touchdown with 7:26 left in the game.
Alabama finished the game scoring 27 unanswered points.
Tennessee fell 34-20. They are now 5-2 overall this season, and 2-2 in SEC play.
Copyright 2023 WVLT. All rights reserved.