First Alert Forecast: Fall coming fast
Summer-like temperatures hang on for now, but a Fall chill is headed our way.
Published: Oct. 3, 2023 at 4:35 AM CDT
|
Updated: Oct. 3, 2023 at 11:50 AM CDT
NASHVILLE, Tenn. (WSMV) - Plenty of afternoon sunshine is expected across the Mid State today and temperatures will once again push into the mid and upper 80s this afternoon.
Tonight will be clear and cool with lows around 60.
The warm weather continues into Wednesday with just a few more afternoon clouds and highs in the mid to upper 80s.
Download the WSMV 4 First Alert Weather app for iPhone or Android. Our team of meteorologists will send alerts to your phone about conditions headed your way. They also share custom videos about the weather where you live.
Have weather pictures or videos? Share them here.
LATE WEEK
A strong cold front will approach the Mid-State starting on Thursday. The afternoon is looking cloudy and even though I cannot totally rule out a late-day shower on Thursday evening, most of the showers hold off until Thursday night and go into our day on Friday.
Be sure to keep that umbrella handy on Friday as those showers work their way through the Mid State. One or two spots may even hear a rumble of thunder, but there is no severe threat to be concerned about.
The big story with this front is the quick temperature drop we'll see. Temperatures on Thursday will be in the low 80s, Friday we'll be in the 70s, and once the front clears the Mid-State we'll see an even bigger cooldown for the weekend.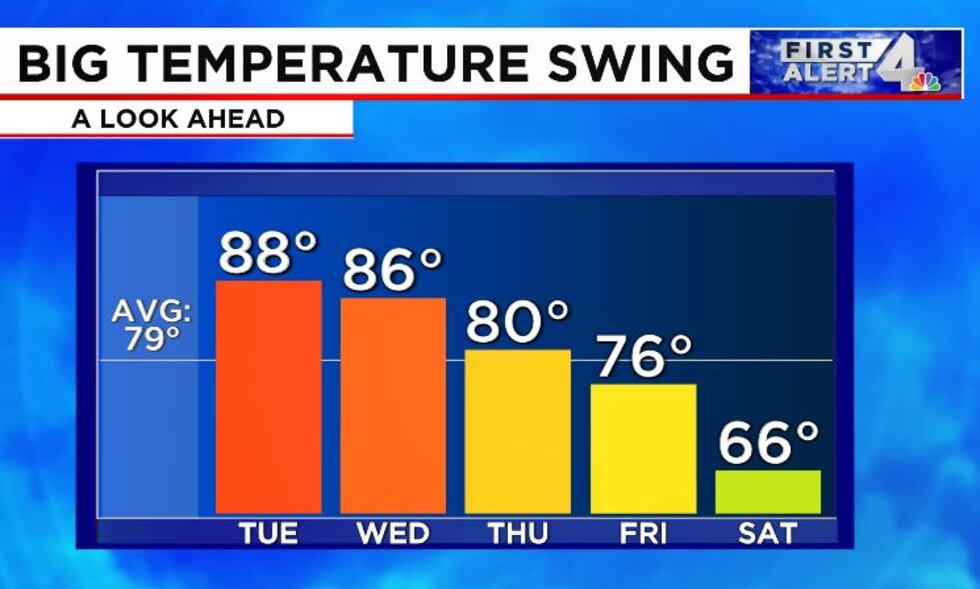 THIS WEEKEND
Good sunshine on Saturday and Sunday, but temperatures will stay in the 60s on both days with lows in the 40s!!!!
Monday will be slightly warmer with highs back near 70 for the afternoon.
Copyright 2023 WSMV. All rights reserved.