First Alert Forecast: Chilly change this weekend
Low temperatures in the 30s & 40s are just around the corner.
Published: Oct. 3, 2023 at 3:12 PM CDT
|
Updated: Oct. 3, 2023 at 10:27 PM CDT
NASHVILLE, Tenn. (WSMV) - Lovely autumn weather will continue through Wednesday before clouds and a few showers take over late Thursday and Friday.
Download the WSMV 4 First Alert Weather app for iPhone or Android. Our team of meteorologists will send alerts to your phone about conditions headed your way. They also share custom videos about the weather where you live.
Have weather pictures or videos? Share them here.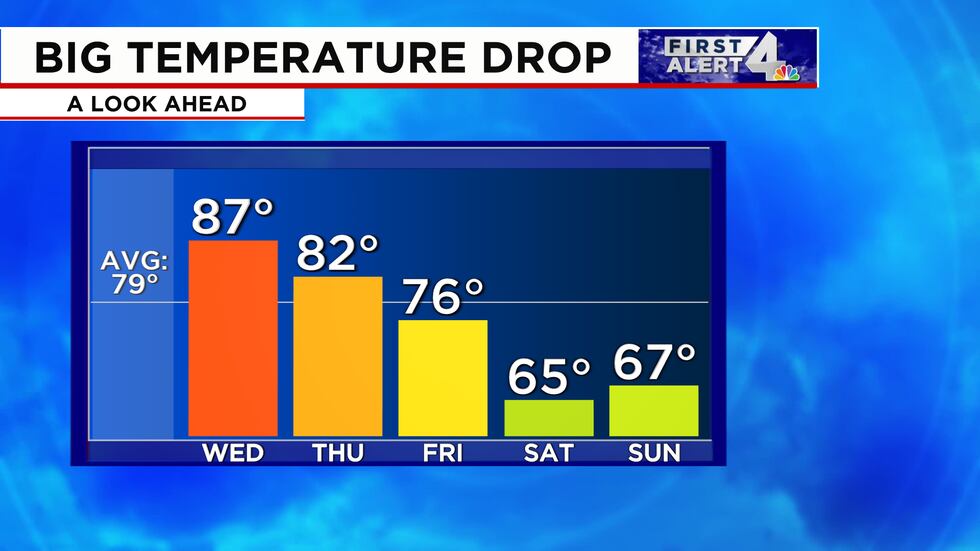 THROUGH WEDNESDAY:
Wednesday will be a lot like Tuesday. After a cool start, it'll turn quite warm under a partly cloudy sky. We'll have highs in the 80s. Nashville's high will be 87 degrees, not far off the record high of 91 set in 2018.
THURSDAY & FRIDAY:
On Thursday, clouds will increase through the day. An isolated shower or two will become possible by late afternoon in Nashville. A few rain showers will be possible before that over western Middle Tennessee.
Thursday night will bring a few more showers, but generally speaking, all precipitation will be rather light.
A few more showers are likely Friday, too, in advance of an approaching cold front. Friday will remain mostly cloudy and be a cooler day -- in the 60s and 70s for highs. All rain should exit the Mid State in time for Friday Night football games.
THIS WEEKEND & BEYOND:
This weekend will bring our first true blast of autumn air. Both days will be partly cloudy and dry with very low humidity.
Temperatures will start in the 40s on Saturday and only climb in to the mid 60s. A strong northwest breeze will develop very early in the day and continue into the afternoon.
Sunday will start even colder. In fact, the Cumberland Plateau will likely experience its first frost of the season! Lows in the Mid State will be in the 30s and 40s. We'll have highs in the 60s once again.
Monday will kick off on a chilly note, too. However, a light southwest breeze and abundant sunshine will boost temperatures into the mid 70s.
Temperatures will moderate further on Tuesday of next week.
Copyright 2023 WSMV. All rights reserved.