First Alert Forecast: Summery start to October
High temperatures for the next several days will remain will into the 80s
Published: Oct. 1, 2023 at 3:24 PM CDT
|
Updated: Oct. 1, 2023 at 11:32 PM CDT
NASHVILLE, Tenn. (WSMV) - Above average temperatures can be expected for the first few days of the new month!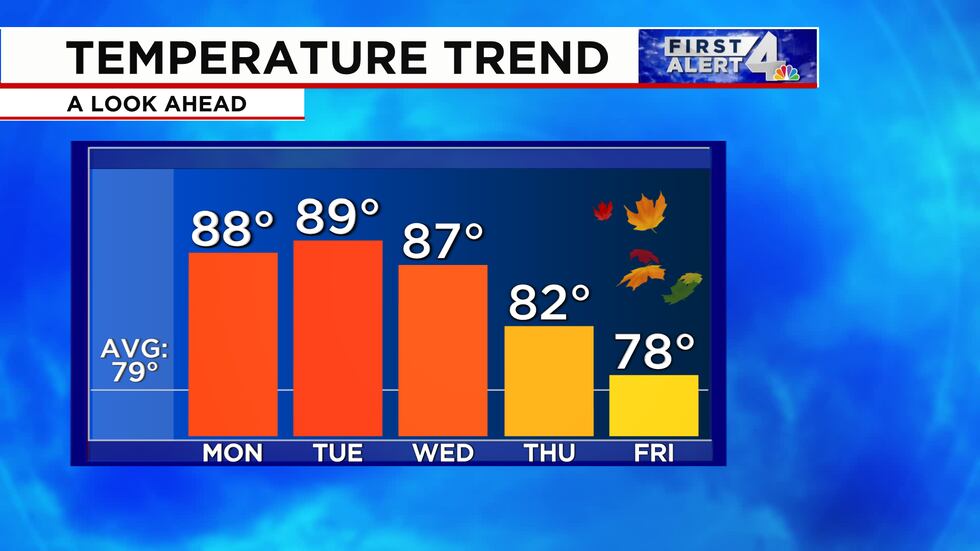 Download the WSMV 4 First Alert Weather app for iPhone or Android. Our team of meteorologists will send alerts to your phone about conditions headed your way. They also share custom videos about the weather where you live.
Temperatures for most will fall into the 50s to near 60 degrees under a mostly clear sky. There could be some spotty patches of fog that develop into the morning.
The summer-like pattern continues into the start of the work week. Monday, Tuesday and Wednesday will all be partly to mostly sunny days with highs well into the 80s.
Mostly cloudy skies are expected on Thursday. The clouds will keep highs in the lower 80s. A late day shower is possible, but the best rain chance is overnight.
Spotty showers are possible on Friday as a cold front moves through. Temperatures will begin to drop significantly. Friday's highs will be in the middle to upper 70s.
Next weekend, the fall feeling will be in the air. Saturday and Sunday will be dry and sunny with highs only in the 60s. Overnight lows both weekend days will be in the lower 50s and 40s.
Have weather pictures or videos? Share them here.
Copyright 2023 WSMV. All rights reserved.