Titans getting suspended offensive lineman back early, per NFL memo
"As a result of gambling policy changes, Titans' OT Nick Petit-Frere and Lions' WR Jameson Williams will be reinstated effective on Monday."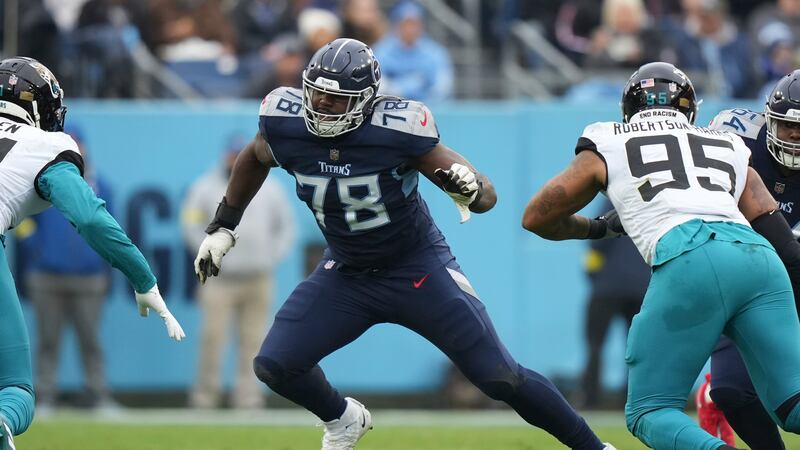 Published: Sep. 29, 2023 at 3:01 PM CDT
NASHVILLE, Tenn. (WSMV) - According to newly modified gambling policies by the NFL, the Tennessee Titans will be getting back a much-needed offensive lineman back early from suspension.
According to reports from NFL insider Adam Schefter, Titans offensive tackle Nick Petit-Frere will be reinstated, effective on Monday.
"As a result of gambling policy changes, Titans' OT Nick Petit-Frere and Lions' WR Jameson Williams will be reinstated effective on Monday. They each had served four game suspensions for violations of the league's gambling policy," Schefter said.
Schefter adds that there will now be increased discipline for gambling on NFL games, after the NFL and NFLPA modified the gambling policy.
Petit-Frere was drafted by the Titans in the third round of the 2022 NFL Draft. The Titans released the following statement regarding his suspension: "We have been made aware of Nick's suspension by the league. We believe in Nick and know that he has deep respect for the integrity of the game and our organization. We will continue to emphasize to our players the importance of understanding and adhering to league rules and policies."
The Titans are in desperate need of help on the offensive side of the ball after starting the season 1-2. In their last time on the field, they only put up three points against the Cleveland Browns. They'll face the Cincinnati Bengals on Sunday.
Copyright 2023 WSMV. All rights reserved.