First Alert Forecast: Rain and storms today; Drier this weekend
Scattered showers and storms will last into the evening.
Published: Sep. 28, 2023 at 3:31 AM CDT
|
Updated: Sep. 28, 2023 at 4:54 AM CDT
NASHVILLE, Tenn. (WSMV) - Don't forget the umbrella today! It's going to be a wet day across most of the MidState, but drying out just in time for the weekend.
Download the WSMV 4 First Alert Weather app for iPhone or Android. Our team of meteorologists will send alerts to your phone about conditions headed your way. They also share custom videos about the weather where you live.
Showers and storms will develop this morning and last into the afternoon and evening. Everyone is fair game for rain today. Expect heavy downpours at times with thunder and lighting, but these storms shouldn't be severe. Some areas of southern Kentucky may experience a little flooding. Meanwhile, this afternoon, high temperatures will be a little cooler in the low 80s.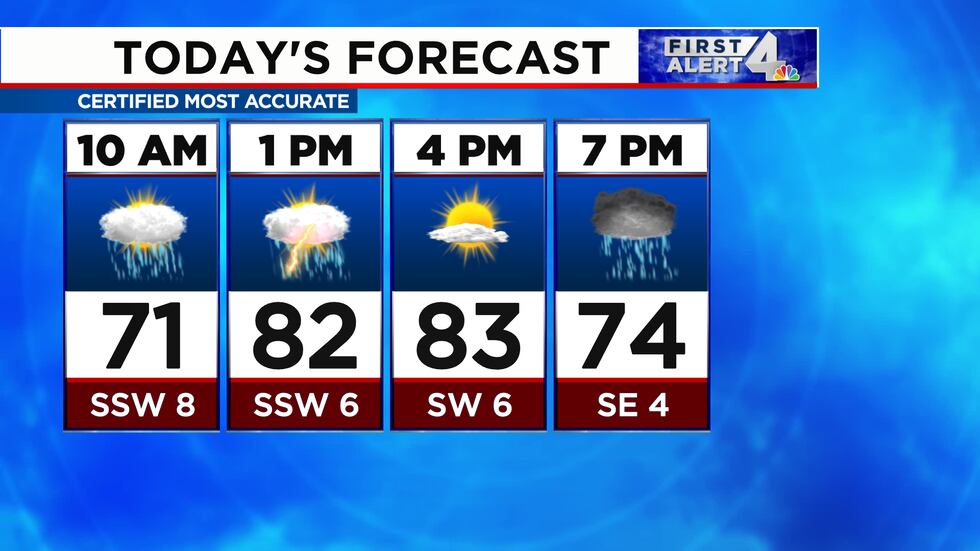 Have weather pictures or videos? Share them here.
The majority of the rain clears out tonight, but a few isolated showers could still pop up overnight and into Friday morning. However, almost everyone stays dry tomorrow. Temperatures will be back in the upper 80s tomorrow afternoon with a mix of sun and clouds.
The weekend is looking dry and toasty! Highs will stay above average in the upper 80s with plenty of sunshine. Lows remain cooler in the low 60s.
The bright sunshine and hotter-than-normal weather will last through next week, too. Expect each day to feature sunny skies with highs in the upper 80s and lows in the low 60s.
Copyright 2023 WSMV. All rights reserved.