US secures the release of the soldier who crossed into North Korea 2 months ago
Published: Sep. 27, 2023 at 5:29 AM CDT
|
Updated: Sep. 27, 2023 at 12:51 PM CDT
WASHINGTON (AP) — The U.S. has secured the release of a U.S. soldier who sprinted across a heavily fortified border into North Korea more than two months ago, and he is on his way back to America, officials announced Wednesday. U.S. ally Sweden and rival China helped with the transfer.
Left unanswered were questions of why Pyongyang—which has tense relations with Washington over the North's nuclear program, support for Russia's war in Ukraine and other issues—had agreed to turn him over and why the soldier had fled in the first place.
North Korea had abruptly announced earlier Wednesday that it would expel Pvt. Travis King — though some had expected the North to drag out his detention in hopes of squeezing concessions from Washington at a time of high tensions between the two countries.
"U.S. officials have secured the return of Private Travis King from the Democratic People's Republic of Korea," White House national security adviser Jake Sullivan said in a statement. "We appreciate the dedication of the interagency team that has worked tirelessly out of concern for Private King's wellbeing."
Officials said they did not know exactly why North Korea decided to expel King, but suspected Pyongyang determined that as a low-ranking serviceman he had no real value in terms of either leverage or information. One official, who was not authorized to comment and requested anonymity, said the North Koreans may have decided that King, 23, was more trouble to keep than to simply release him.
Swedish officials took King to the Chinese border, where he was met by the U.S. Ambassador to China Nicholas Burns, the Swedish ambassador to China, and at least one U.S. Defense Department official. Biden administration officials insisted they provided no concessions to North Korea to secure the soldier's release.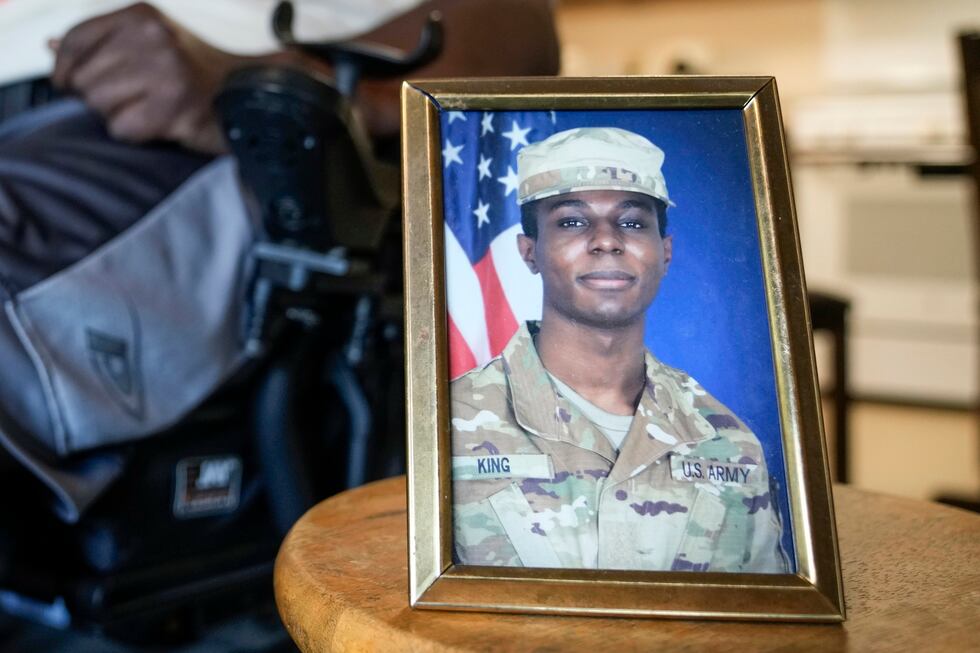 "We thank the government of Sweden for its diplomatic role serving as the protecting power for the United States in the DPRK and the government of the People's Republic of China for its assistance in facilitating the transit of Private King," Sullivan added.
King was flown to a U.S. military base in South Korea before being returned to the U.S.
His expulsion almost certainly does not end his troubles or ensure the sort of celebratory homecoming that has accompanied the releases of other detained Americans. He has been declared AWOL from the Army, which can mean punishment military jail, forfeiture of pay or a dishonorable discharge.
In the near term, officials said that their focus would be on helping King reintegrate into U.S. society, including helping him address mental and emotional concerns, according to a senior Biden administration official who briefed reporters on the transfer.
The soldier was in "good spirits and good health" upon his release, according to one senior administration official. He was to be taken to Brooke Army Medical Center at Fort Sam Houston in Texas, and was expected to arrive overnight, officials said.
King, who had served in South Korea, ran into North Korea while on a civilian tour of a border village on July 18, becoming the first American confirmed to be detained in the North in nearly five years.
At the time he crossed the border, King was supposed to be heading to Fort Bliss, Texas, following his release from prison in South Korea on an assault conviction.
After arriving on the Texas military installation, King is expected to undergo psychological assessments and debriefings. He will also get a chance to meet with family. King's legal situation remains complicated because he willingly bolted into enemy hands, so legally he would be in military custody throughout the process.
Sweden was the chief interlocutor with North Korea on the transfer, while China helped facilitate his transfer, administration officials said.
Biden administration officials expressed gratitude for China's assistance with the transfer but underscored that Beijing did not play a mediating role in securing King's release. The U.S. first learned through Swedish officials earlier this month that North Korea was looking to expel King. That information accelerated the effort to release King with Sweden acting on the United States' behalf in its talks with the North, an official said.
On Wednesday, the North's official Korean Central News Agency reported that authorities had finished their questioning of King. It said that he confessed to illegally entering the North because he harbored "ill feeling against inhuman maltreatment and racial discrimination" within the U.S. Army and was "disillusioned about the unequal U.S. society."
It had attributed similar comments to King before, and verifying their authenticity is impossible. Some previous foreign detainees have said after their releases that declarations of guilt while in North Korean custody were made under coercion.
The White House did not address the North Korean state media reports that King fled because of his dismay about racial discrimination and inequality in the military and U.S. society. One senior administration official said that King was "very happy" to be on his way back to the United States.
In an interview last month with The Associated Press, King's mother, Claudine Gates, said her son had reason to want to come home. She thanked the U.S. government on Wednesday for securing her son's release.
"Ms. Gates will be forever grateful to the United States Army and all its interagency partners for a job well done," Jonathan Franks, spokesperson for Gates, said in a statement.
King was among about 28,000 U.S. troops stationed in South Korea as deterrence against potential aggression from North Korea. U.S. officials had expressed concern about King's well-being, citing the North's harsh treatment of some American detainees in the past.
Both Koreas ban anyone from crossing their heavily fortified shared border without special permissions. The Americans who crossed into North Korea in the past include soldiers, missionaries, human rights advocates or those simply curious about one of the world's most cloistered societies.
While King was officially declared AWOL, the Army considered but did not declare him a deserter, which is a much more serious offense. In many cases, someone who is AWOL for more than a month can automatically be considered a deserter, which means they intended to leave permanently.
Punishment for going AWOL or desertion can vary, and it depends in part on whether the service member voluntarily returned or was apprehended. King's turnover by the North Koreans makes that a more complicated determination.
North Korea's decision to release King after 71 days appears relatively quick by the country's standards, especially considering the tensions between Washington and Pyongyang over the North's growing nuclear weapons and missile program and the United States' expanding military exercises with South Korea. Some had speculated that North Korea might treat King as a propaganda asset or bargaining chip.
The U.S. has also publicly accused North Korea of providing munitions to Russia for its war with Ukraine and says that Moscow is pushing Pyongyang to provide even more military aid. Russian President Vladimir Putin and North Korean leader Kim Jong Un met for talks in Russia's Far East earlier this month.
Biden administration officials on Wednesday downplayed any idea that the release could augur a broader shift by Kim, but reiterated that the U.S. remains ready to engage the North with diplomatic talks.
Captive Americans have been flown to China previously. In other cases, an envoy has been sent to retrieve them.
That happened in 2017 when North Korea deported Otto Warmbier, an American college student who was in a coma at the time of his release and later died.
___
Kim Tong-Hyung reported from Seoul, South Korea. Associated Press writers Aamer Madhani and Eric Tucker contributed from Washington.
Copyright 2023 The Associated Press. All rights reserved.