NASCAR team to race cars paying homage to 'Talladega Nights'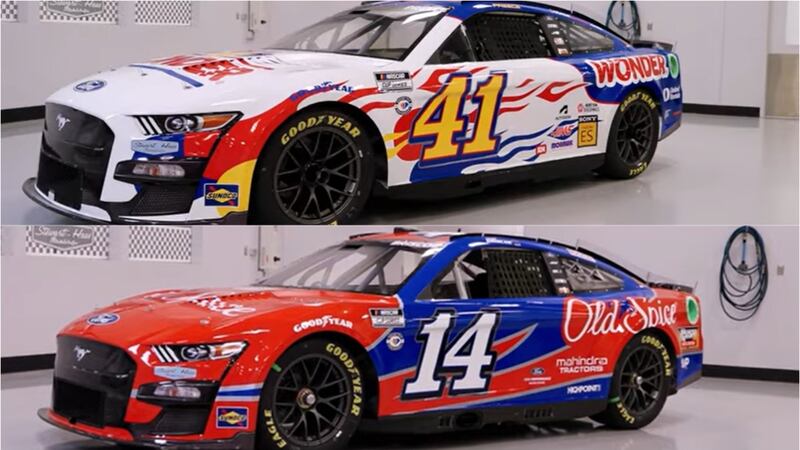 Published: Sep. 26, 2023 at 5:57 PM CDT
CHARLOTTE, N.C. (WBTV/Gray News) - Will Ferrell won't be behind the wheel at Talladega Superspeedway on Sunday, but the paint schemes he made iconic will be on track once more.
On Monday, Stewart-Haas Racing announced that drivers Chase Briscoe and Ryan Preece will pilot cars paying tribute to the hit movie "Talladega Nights: The Ballad of Ricky Bobby."
Briscoe's No. 14 will be sponsored by Old Spice and carry the scheme made popular by the fictional Cal Naughton Jr., while Preece's No. 41 will don the Wonder Bread scheme driven by Ricky Bobby in the movie.
The team revealed the schemes on social media and even recreated an iconic scene from the film.
Preece and Briscoe played along with the fun on social media, posting quotes from the movie.
While the schemes for this weekend's YellaWood 500 are one-offs for Preece and Briscoe, it won't be the first time the No. 14 has carried Old Spice as a primary sponsor. Team owner Tony Stewart was partners with the company for 11 years, often racing with Old Spice on the hood during his first couple seasons as an owner-driver.
The fun comes in what has been a trying season for Stewart-Haas Racing, with no drivers left in NASCAR's playoffs. In fact, only Kevin Harvick, who is retiring at the end of the year, qualified for the postseason.
This weekend will mark NASCAR's second and final trip of the season to Talladega, and is the second race in the playoffs' Round of 12. Hendrick Motorsports driver William Byron punched his ticket to the Round of 8 with a victory at Texas this past weekend.
Cup Series drivers will take the track Saturday afternoon for qualifying before taking the green flag on Sunday at 2 p.m.
Copyright 2023 WBTV via Gray Media Group, Inc. All rights reserved.