First Alert Forecast: Isolated strong - severe storms on Wednesday
This weekend looks sunny, very warm, and dry.
Published: Sep. 26, 2023 at 12:04 PM CDT
|
Updated: Sep. 26, 2023 at 12:07 PM CDT
NASHVILLE, Tenn. (WSMV) - A First Alert Weather Day has been issued for Wednesday afternoon and evening. A couple strong - severe storms will be possible.
Download the WSMV 4 First Alert Weather app for iPhone or Android. Our team of meteorologists will send alerts to your phone about conditions headed your way. They also share custom videos about the weather where you live.
Have weather pictures or videos? Share them here.
THROUGH TONIGHT:
It'll remain mostly sunny and hot this afternoon. Temperatures will actually top off nearly 10 degrees above average. Nashville's high should be 90 degrees.
Tonight, more muggy air will begin to filter in from the south. A few more clouds will develop with very isolated showers, mainly east of Nashville. Count on lows in the mid 60s by sunrise Wednesday.
TOMORROW:
A First Alert Weather Day has been issued for the Mid State for late Wednesday. Isolated - widely scattered strong - severe storms will be possible. The best chance for a strong storm or two containing damaging wind gusts and/or hail will set up over southcentral Kentucky and the Upper Cumberland Plateau.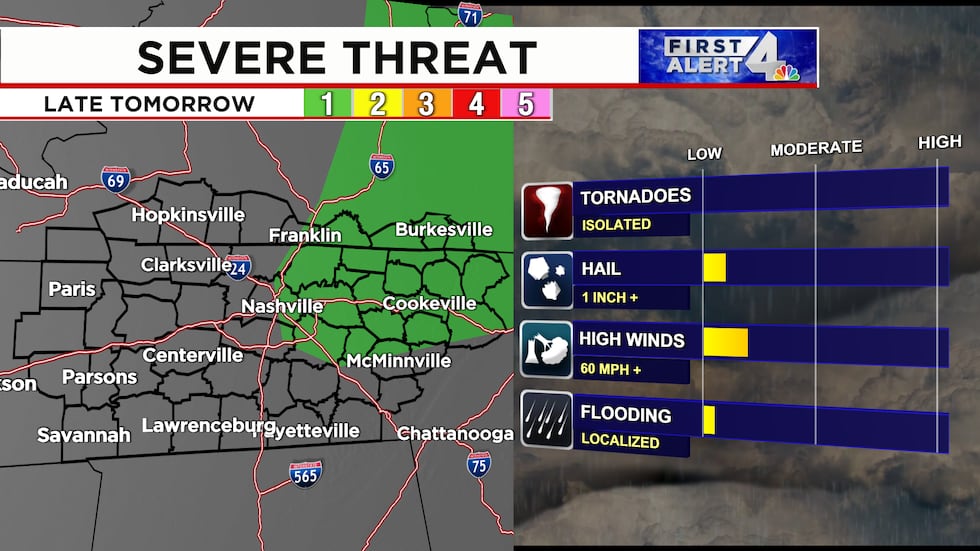 The farther west you are on Wednesday, the lower the chance for showers and storms. Some areas will avoid rain altogether. Nashville's rain chance on Wednesday will be 30%.
Highs on Wednesday will be in the mid-upper 80s for most with more mugginess than recent days.
THURSDAY & FRIDAY:
Lingering showers and storms are likely on Thursday. Nashville's rain chance will be 40%. Isolated heavy downpours will be possible, but most will many will miss out on the rain. It'll still be humid.
Friday will trend drier, with just a 20% shower chance.
THIS WEEKEND & BEYOND:
Sunny and hot weather is expected this weekend & beyond.
Copyright 2023 WSMV. All rights reserved.