First Alert Forecast: Rain and storms return mid-week
Temperatures will remain in the 80s.
Published: Sep. 25, 2023 at 2:39 PM CDT
|
Updated: Sep. 25, 2023 at 9:38 PM CDT
NASHVILLE, Tenn. (WSMV) - More sunshine Tuesday with temperatures rising to the upper 80s. Rain arrives by Wednesday.
THROUH TOMORROW:
Overnight, pleasant weather for all. Spotty fog forms toward morning, so be on the lookout for that early on Tuesday.
Tuesday afternoon looks sunny and hotter than previous days. High, in the upper 80s.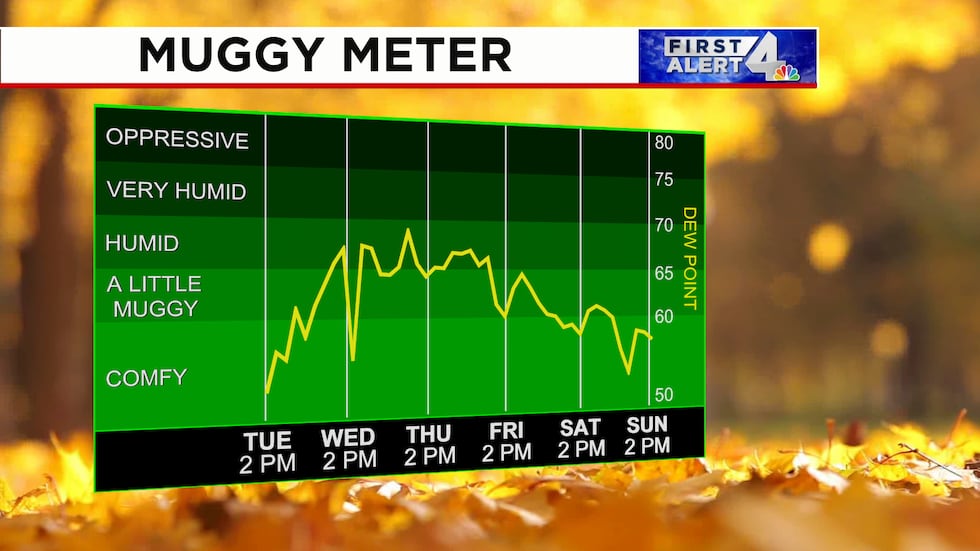 WEDNESDAY & THURSDAY:
Humidity will increase slightly for the middle of this week with highs in the mid 80s. A few showers & storms will develop on Wednesday, Wednesday night, and Thursday. Rain won't affect all areas, but many will get at least a shower.
Low temperatures will be a little higher and high temperatures will be a little lower over this two-day stretch because of added cloud cover.
FRIDAY THROUGH MONDAY:
As the weekend approaches, the rain chance will diminish.
Dry weather is likely with pleasant nights and warm afternoons from Friday through Monday. Lows will be in the low 60s with highs in the mid 80s.
Copyright 2023 WSMV. All rights reserved.