First Alert Forecast: The warm stretch continues
Temperatures will stay above average for several more days.
Published: Sep. 24, 2023 at 5:42 AM CDT
NASHVILLE, Tenn. (WSMV) - It's the first official weekend of fall, but it's still not feeling like it outside.
Temperatures will once again be in the middle 80s today with plenty of sunshine. We'll see a high of 85º in Nashville this afternoon. Tonight, a few showers could develop in areas west of I-65. Some of those showers could linger into Monday morning, but I'm not expecting a very wet morning commute. Overnight lows fall to the low 60s.
Download the WSMV 4 First Alert Weather app for iPhone or Android. Our team of meteorologists will send alerts to your phone about conditions headed your way. They also share custom videos about the weather where you live.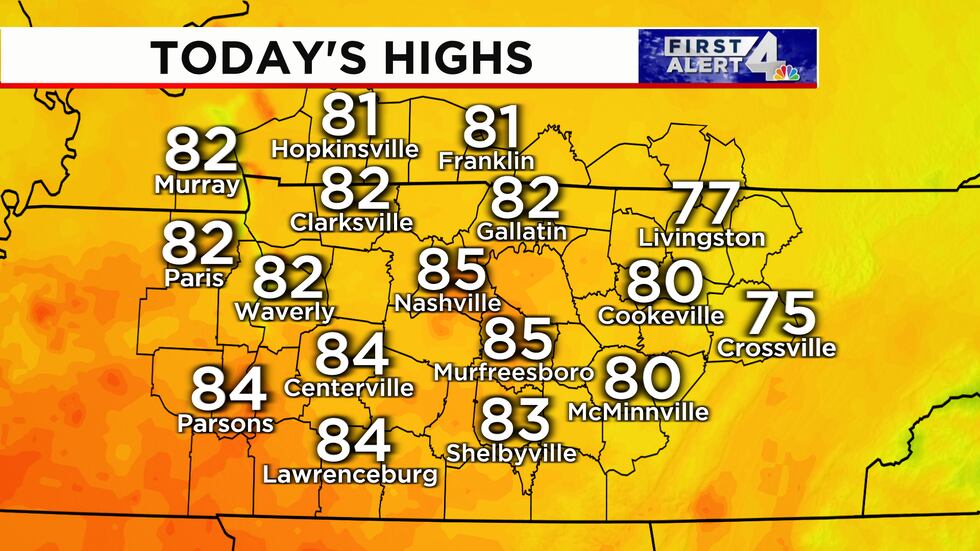 Have weather pictures or videos? Share them here.
Clouds will increase Monday but temperatures remain warm in the 80s.
Tuesday looks to be warm and dry. We could see a few showers develop overnight into Wednesday morning.
There's a very small rain chance Wednesday during the day, but rain chances increase Wednesday night. All the while, temperatures stay in the mid 80s.
Our next good rain chance in the day comes Thursday. Expect widespread scattered showers. We could even see a few isolated thunderstorms, but no severe weather is expected. Rain should clear out late Thursday night.
The end of the week looks dry and slightly cooler. Friday and Saturday will feature lots of sunshine with highs in the low 80s. Lows will remain in the low 60s.
Copyright 2023 WSMV. All rights reserved.