'I am thankful for the dogs being with her': Mother shares details of her missing daughter's rescue
Published: Sep. 23, 2023 at 9:30 AM CDT
FAITHORN, Mich. (WLUC/Gray News) - A mother in Michigan is sharing the details of the search for her missing daughter, who was found safe with two of her dogs watching over her.
Wherever 2-year-old Thea Chase goes, her furry friends are close behind. Buddy, a large Rottweiler, and Hartley, a springer spaniel, have been with Thea since birth.
Thea and the two dogs wandered from their home into the woods just after 7:30 p.m. Wednesday. Her mother Brooke Chase recalls Thea was outside with her uncle, who was power washing.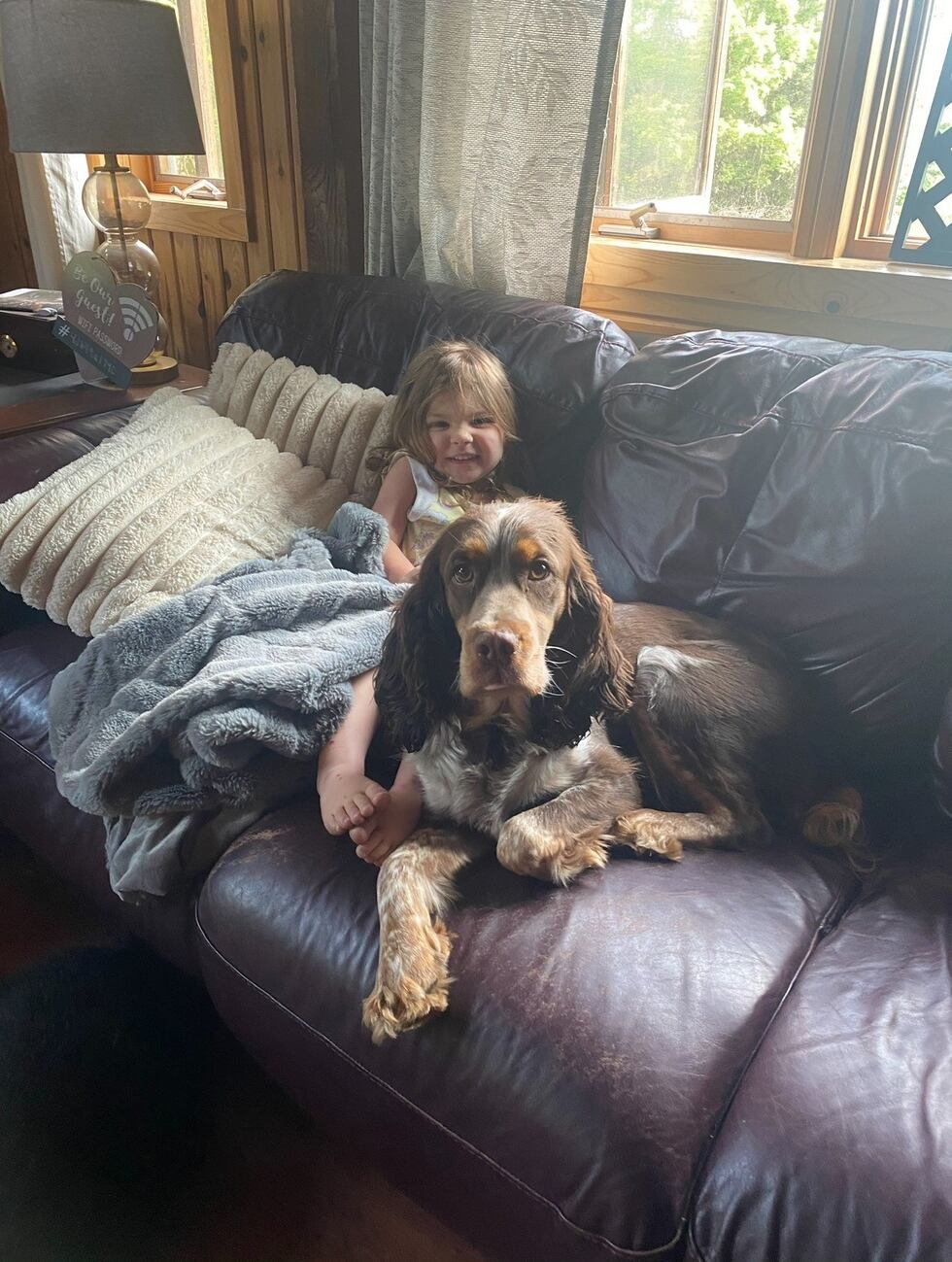 "He had told her to go inside and get some shoes on because she was barefoot. He was around the corner on the porch," Chase said. "She said 'OK!' and he thought she went inside. My gut told me to go check on Thea and make sure she wasn't getting into any trouble. That is when we noticed that she was not here, and the dogs were not here."
With no luck finding Thea or the dogs after searching for a half hour, Chase called 911.
"I am just running up and down the road, we were driving up and down the road trying to search," Chase said. "We are not hearing any of the dogs, they are not coming to our calls, she is not coming to our calls. I was just panicking, thinking the worst."
Michigan State Police and Menominee County Sheriff's Deputies quickly established a search grid to look for the missing girl.
"The initial search efforts when something like this happens are guided where the police K9s are deployed. We want to keep the scent as fresh for them as long as possible," said Lt. Jeremy Hauswirth, Michigan State Police Iron Mountain Post Commander.
The extensive search effort included volunteers and agencies from surrounding counties.
Thea was missing for nearly five hours before she was found by an all-terrain vehicle rider off a trail more than three miles from her home.
To the rider's surprise, Thea was fast asleep on Hartley with Buddy standing by.
"I am thankful for the dogs being with her," Chase said. "When she was found, the only reason she was, was because our bigger dog, Buddy, was standing there. The driver said he went to touch her to wake her up because she was still sleeping, and Hartley was growling at him to not touch the kid."
Chase was still at home when Thea was found, but heard on the radio she was alive and was returning home on the ATV.
"I ran outside when I heard she was up here. The minute she sees me she says, 'Hi Mommy,' like nothing happened. She was giggling. I was trying to compose myself," Chase said.
Now, two days later, Chase said she still feels like she is living in a movie. She is happy to have Thea back home, along with Buddy and Hartley.
"I just want to thank everybody that was here helping find her," Chase said.
Despite walking more than three miles barefoot, Chase said there were no scratches on Thea's feet.
Copyright 2023 WLUC via Gray Media Group, Inc. All rights reserved.