9 corrections deputies indicted over death of Gershun Freeman
Published: Sep. 20, 2023 at 5:37 PM CDT
|
Updated: Oct. 4, 2023 at 10:31 PM CDT
MEMPHIS, Tenn. (WMC) - In a press conference on September 20, Shelby County Sheriff Floyd Bonner announced that nine corrections deputies are indicted for the death of Gershun Freeman.
Freeman, 33, died inside Shelby County Jail after an encounter with jailers on October 5, 2022. According to an autopsy, Freeman suffered cardiac arrest while he was restrained. His manner of death has been classified as a homicide.
The following corrections deputies have been indicted:
Stevon Jones: second-degree murder and aggravated assault in concert resulting in death

Courtney Parham: second-degree murder and aggravated assault in concert resulting in death

Damien Cooper: aggravated assault in concert resulting in death

Ebonee Davis: aggravated assault in concert resulting in death

Lareko Elliott: aggravated assault in concert resulting in death

Anthony Howell: aggravated assault in concert resulting in death

Chelsey Duckett: aggravated assault in concert resulting in death

Jeffrey Gibson: aggravated assault in concert resulting in death

Charles Gatwood: aggravated assault in concert resulting in death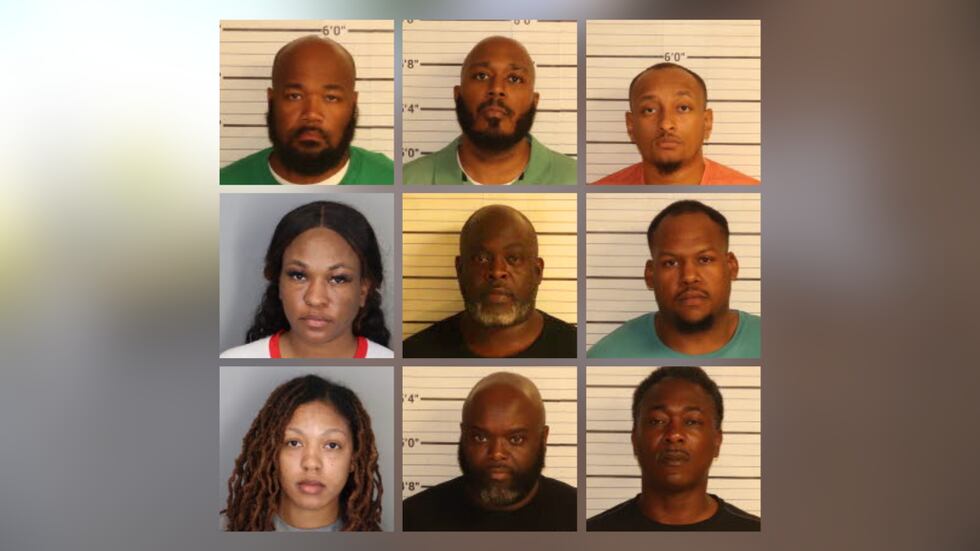 All are free on bond.
"Let me clear," said Sheriff Bonner. "No action by any Shelby County Sheriff employee caused Mr. Freeman's death."
In a video released earlier this year, Freeman's death inside 201 Poplar was captured on surveillance footage that was shared with the public.
"I believe if I were not running for another office," said Bonner. "These indictments would not have happened. I find this despicable."
Freeman's family's attorneys Jake Brown and Brice Timmons say otherwise.
"The simple fact is that these indictments are not made public yet," said Freeman family attorney Brice Timmons. "These indictments are not unsealed. He's trying to get ahead of this for the sake of his election campaign, and that is a ridiculous thing."
"Sheriff Bonner and his leadership team at the Shelby County Sheriff's Office have dishonored the Sheriff's department in Shelby County," said Brown. "They have allowed young men, young women too. They have allowed young men to die at the hands of their officers when those men are in the most helpless condition you can imagine."
The 13-minute-long edited surveillance video, released by the Nashville District Attorney's Office, begins by showing corrections officers handing out meals to inmates. Once his door opens, the video shows Freeman lunge at officers from his cell, and nearly a dozen officers trying to subdue him.
It shows Freeman wandering naked, bruised, and bloody across multiple floors of the jail while officers make attempts to take him back into custody.
The video shows when jailers were finally able to put Freeman in cuffs. At that point, he's seen limp and unresponsive.
He was pronounced dead on the scene.
There are nine corrections deputies in total that are facing indictments for the death of Freeman.
Bonner spoke at the press conference, rebutting the indictments with a claim that the release of the jail footage was politically motivated.
"The way this case was being handled is political, and it's only grown worse," Bonner retorted, "[there was] a personal conflict due to [their] support of one of my political opponents."
Bonner is referring to District Attorney Steve Mulroy, who has endorsed mayoral candidate Van Turner. DA Mulroy recused himself from the case. Mulroy says state DA Conference appointed Davidson County District Attorney Glenn Funk to the case. Funk released the video in March.
When asked to elaborate on Mulroy's political agenda, Bonner said "Do your research."
DA Mulroy released the following statement in response to Bonner:
"I endorsed Van Turner for Mayor before Mr. Freeman died in the Shelby County Jail and before Sheriff Bonner declared his candidacy. To keep politics out of the case, I recused myself and requested another DA be appointed, a common practice among DAs which is not at all unusual. The DA Conference, not me, appointed Glenn Funk. I've had no involvement at all in the case since last year, and played no role in the decision to indict.

"The release of the video was per the regular practice of DA Funk and not at all unusual. I haven't stated I disagree with it. Sheriff Bonner was legally able to release any and all of the videos in all jail death and officer-involved shooting cases. I favor such release in the name of transparency.

"In recent jail death cases since the Freeman case, Sheriff Bonner initially refused to provide TBI or this office with videos, stating that we could view the video at his office but could not have a copy and that we had to go through his lawyer Allan Wade. This is not practical; we need a copy of the video to examine ourselves. As a result, I had to get the TBI to compel production of the videos.

"I can't comment on the details of the Freeman case, both because it is an ongoing case and because I am not involved in it since it is DA Funk's case and not ours. "
A lawyer involved in the case says Bonner is only looking to further his mayoral campaign. The lawyer implied that Bonner was "scared of competition."
A list of all indicted corrections deputies is expected to be released on Monday.
Action News 5 will keep you updated as more information is disclosed.
Click here to sign up for our newsletter!
Click here to report a spelling or grammar error. Please include the headline.
Copyright 2023 WMC. All rights reserved.