First Alert Forecast: Warm weather for a while
The best rain chance in our forecast develops early next week.
Published: Sep. 20, 2023 at 3:07 PM CDT
|
Updated: Sep. 20, 2023 at 10:28 PM CDT
NASHVILLE, Tenn. (WSMV) - More clouds are expected through early Thursday with a slight for a passing sprinkle or shower.
Download the WSMV 4 First Alert Weather app for iPhone or Android. Our team of meteorologists will send alerts to your phone about conditions headed your way. They also share custom videos about the weather where you live.
Have weather pictures or videos? Share them here.
NOW THROUGH FRIDAY:
Thursday will start with more clouds than sunshine and the outside chance for a sprinkle or shower. The afternoon will then turn partly cloudy and warm. We'll have highs in the mid 80s for Nashville and surrounding areas.
Friday will be brighter from start to finish, and warmer too. Temperatures will climb from the low 60s to the mid-upper 80s by late afternoon.
THIS WEEKEND:
This weekend looks quite nice. It'll be partly cloudy and warm both days with lows in the low 60s and highs in the mid-upper 80s.
There's the slightest chance for a late day shower or storm moving in from the west on Sunday.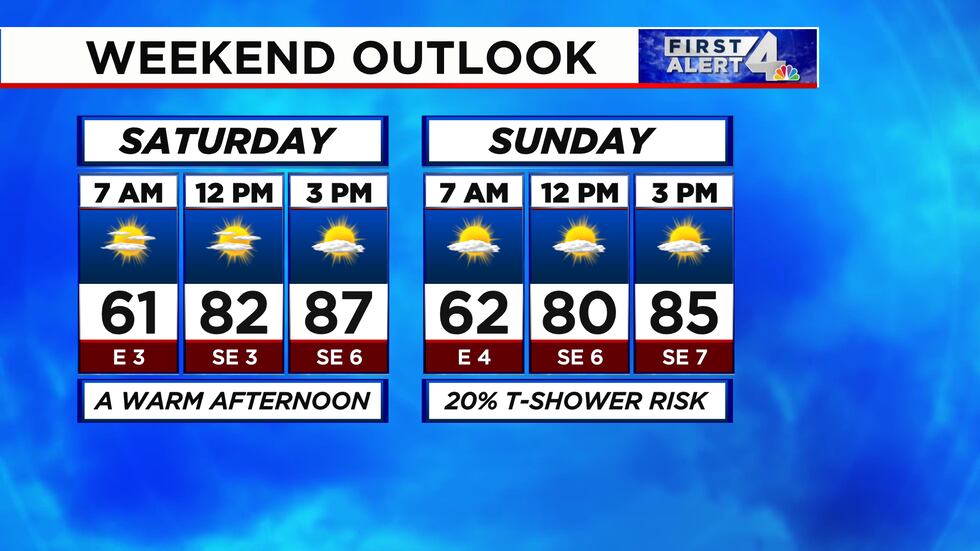 NEXT WEEK:
The rain chance will build as we head toward the middle of next week. It'll increase from 20% on Monday to 40% on Tuesday and Wednesday. Spotty thundershowers will be likely Tuesday and Wednesday under a variably cloudy sky.
Copyright 2023 WSMV. All rights reserved.