First Alert Forecast: Feeling like fall soon
Temperatures take a big dip next week.
Published: Sep. 10, 2023 at 4:34 PM CDT
|
Updated: Sep. 10, 2023 at 8:00 PM CDT
NASHVILLE, Tenn. (WSMV) - One more day of temperatures in the 80s before a cold front brings us a preview of autumn.
Download the WSMV 4 First Alert Weather app for iPhone or Android. Our team of meteorologists will send alerts to your phone about conditions headed your way. They also share custom videos about the weather where you live.
This evening will be pleasant with temperatures falling into the 70s, then eventually the 60s overnight. We have seen a few rain showers along the Plateau today but those showers will diminish as the night goes on.
Monday will be sunny and a little warmer with highs climbing back to the upper 80s. It will still be a tad bit humid, but pretty normal for this time of year.
A cold front moves in on Tuesday that will bring us some rain late in the day. Some showers will linger into Wednesday morning, but our temperatures really take a nose dive. Highs will remain well below average for the rest of the week.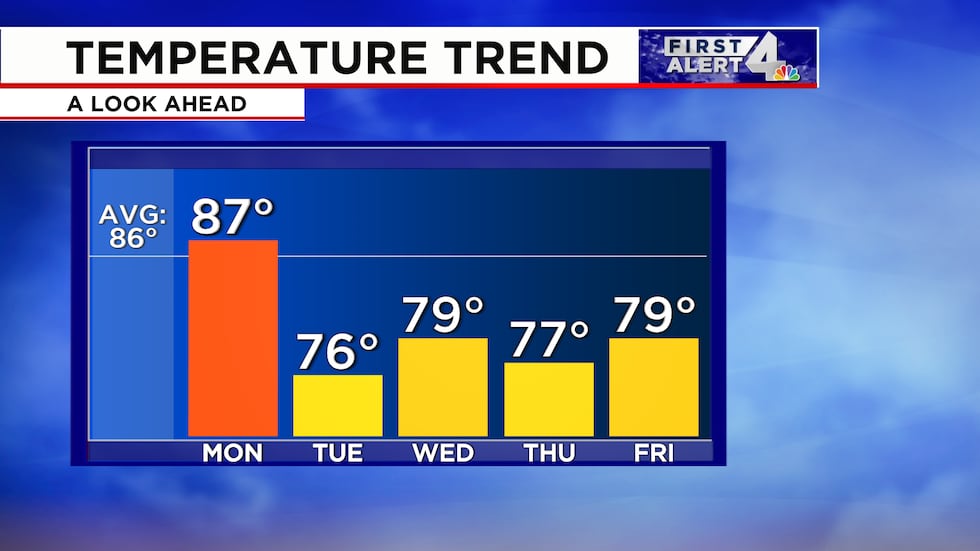 Have weather pictures or videos? Share them here.
Once the rain clears out Wednesday, expect highs to be in the 70s with lows in the 50s. That will be the case the rest of the week with a mix of sun and clouds.
However, it is still summer and the 80s will return by next weekend. Highs will be in the low 80s with plenty of sunshine to go around.
Sample HTML block
Copyright 2023 WSMV. All rights reserved.