Kingston Springs mayor pledges to run 130 miles in Tennessee's Run for the Fallen
This year marks the second year for Tennessee's Run for the Fallen which honors fallen soldiers.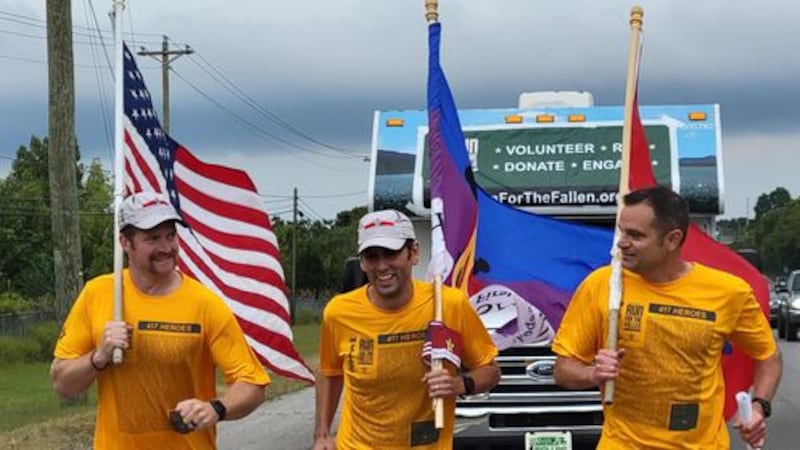 Published: Sep. 8, 2023 at 12:13 PM CDT
KINGSTON SPRINGS, Tenn. (WSMV) - The Kingston Springs Mayor Tony Gross wants to bring attention to help raise funds for Tennessee's Run for the Fallen.
Tennessee's Run for the Fallen, created by Honor and Remember Inc., is to run a specific number of miles for every Tennessee service member killed as a result of serving during the War on Terror including Operation Iraqi Freedom, Enduring Freedom and New Dawn.
This will be the second run in Tennessee. The run is held on the fourth weekend of September. This year's run will be held on Sept. 22 through Sept. 24. Gross said the run is scheduled each year to end on Gold Star Mother's Day.
Gold Star Mother's Day is held on the last Sunday in September and recognizes mothers who have lost a son or daughter in the service of the U.S. Armed Forces.
In 2022, during the first run, one of the flags that was being run was with the unit that captured Saddam Hussein.
Gross said he doesn't know which flags they are carrying this year and said last year's flag was retired permanently.
Over the course of the three-day event, participants run 130 miles from Fort Campbell to Nashville. The run honors 435 fallen Tennesseans.
Gross said that runners stop at every mile to honor the lives of the Tennesseans who lost their lives.
"There are hero markers along the way and each one of those markers has the names of four to five fallen service members and there's a ceremony that we do. Every fallen service member is assigned to that hero marker for as long as this run continues," Gross said.
Gross explained that during each ceremony gold star families are presented with flags.
On Sept. 22, the run will begin with an opening ceremony at 6:30 a.m. and the run starts at 7 a.m. From there, participants will run 50 miles south to Dickson County.
The next day, on Sept. 23, participants will start at 7 a.m. in Dickson and run 50 miles to Williamson County and end in Rutherford County.
On the third and last day, Sept. 24, participants will run 30 miles from Rutherford County to downtown Nashville at the memorial plaza.
Gross said that not everyone has to run the 130 miles to participate. He explained that there's an RV that follows the runners and is filled with people who only ran part of the run.
"In my attempt to get people to donate money to fund the run I promised that I would run 130 miles," Gross said.
Gross said the run is almost completely funded and that they are about $3,000 away from reaching their goal for a total of $10,000. He explained that the funds go to the flags presented to families, the room, board, and food for the runners.
Gross added that the run has been recognized with a state resolution in the last General Assembly by Representative Mary Littleton.
Everyone in the state can join and participate by either donating or watching the feeds of the runners. For more information, click here.
Copyright 2023 WSMV. All rights reserved.