School bus driver retires after winning $100,000 off Powerball ticket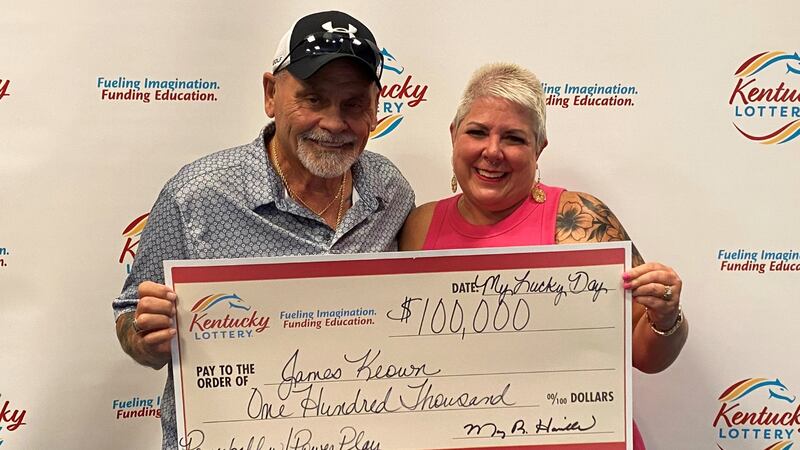 Published: Sep. 6, 2023 at 1:56 PM CDT
LOUISVILLE, Ky. (WAVE/Gray News) - A Kentucky man who worked as a school bus driver for 11 years has retired after he won $100,000 from a Kentucky Lottery Powerball ticket.
James Keown bought the ticket from a Circle K convenience store in Jeffersontown for the Aug. 19 drawing.
Keown worked as a bus driver for the Jefferson County Public School District and had been considering retiring.
"I called my boss on Sunday, and I told him, 'I hit the lottery and I'm not coming back.'… I loved my job, but I'd been thinking about retiring for a while," he said.
According to a release from the Kentucky Lottery, the lucky ticket matched four white ball numbers and the Powerball to win the $50,000 prize. Keown then chose to add the Power Play feature, multiplying his winnings by the Power Play number drawn (2).
He checked the numbers on his phone the next morning and saw all but one number matched.
"I looked at it four times… that number's got to change, but it didn't," Keown said.
However, it was a good thing he checked his phone.
"I thought, 'I better see what I won.' The first time, I saw I won $50,000 and then I thought, 'Wait a minute, I play the multiplier all the time,' so I went back, and the multiplier was 2," Keown said.
Keown then shared the news with his wife, Monta.
"We had just gotten off the phone, and then he texted for me to call him as soon as I could. I panicked thinking something was wrong," Monta told lottery officials. "He told me, 'I just paid off my bills.' I said, 'You did what?'" 'I just paid off my bills. I just won $100,000!'"
Monta was very excited for her husband.
"I'm just over the moon and excited for him," she said.
Keown and Monta claimed the prize the Monday following the Powerball drawing, and he walked away with a check for $71,500 after taxes.
The couple said they have a weakness for disabled cats and plan to support their local kitten and cat rescue shelters. They're also planning to use the winnings towards a lake property.
The Circle K store will also be receiving $1,000 for selling the winning ticket.
Copyright 2023 WAVE via Gray Media Group, Inc. All rights reserved.