Murdaugh lawyer 'very optimistic' client will receive new trial amid jury tampering allegations
Published: Sep. 5, 2023 at 12:59 PM CDT
|
Updated: Sep. 5, 2023 at 3:41 PM CDT
COLUMBIA, S.C. (WCSC/Gray News) - Attorneys who represent convicted killer Alex Murdaugh said Tuesday afternoon they are confident their client will eventually receive a new trial to face charges that he murdered his wife and son in 2021.
Dick Harpootlian and Jim Griffin addressed a motion they filed Tuesday morning requesting a stay of Murdaugh's conviction and a new trial and alleging that the Colleton County clerk of court tampered with the jury during the six-week trial.
Murdaugh was convicted and sentenced in March for the June 2021 shooting deaths of his wife, Maggie, and their son, Paul, at the family's hunting property in rural Colleton County.
The motion alleges Colleton County Clerk of Court Rebecca Hill "tampered with the jury" by advising jurors "not to believe Murdaugh's testimony and other evidence presented by the defense, pressuring them to reach a quick guilty verdict, and even misrepresenting critical and material information to the trial judge in her campaign to remove a juror she believed to be favorable to the defense."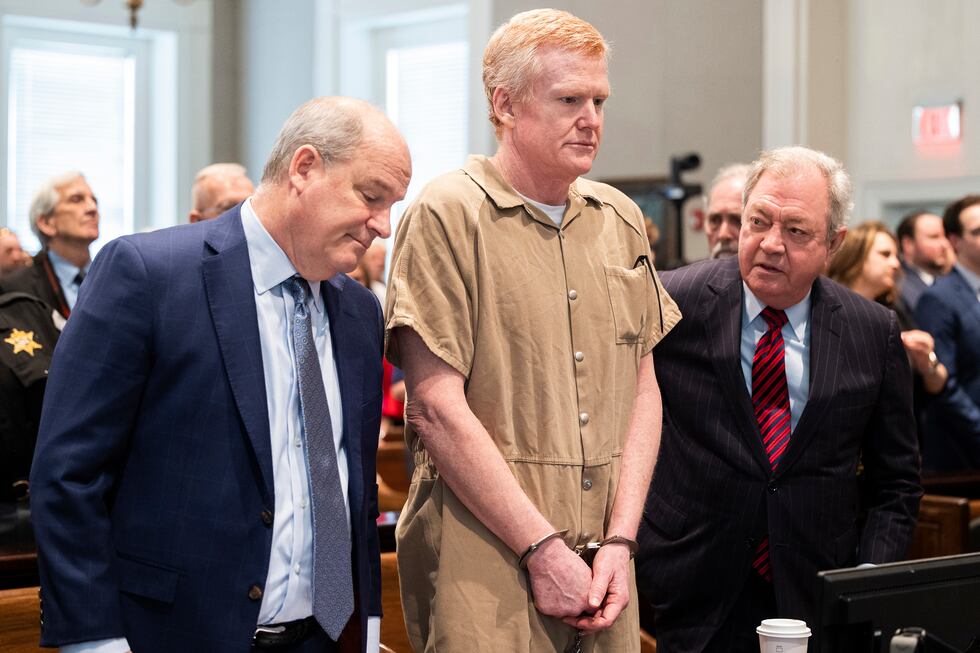 The motion alleges Hill instructed jurors "not to be 'misled' by evidence" presented in Murdaugh's defense and "not to be 'fooled by' Mr. Murdaugh's testimony." Court documents also allege Hill had "frequent private conversations with the jury foreperson, a court-appointed substitution for the foreperson the jury elected for itself at the request of Ms. Hill."
The defense also alleges Hill asked jurors for their opinions about Murdaugh's guilt or innocence, "invented a story" about a Facebook post to remove a juror she believed might vote not guilty, and "pressured jurors to reach a quick verdict, telling them from the outset of their deliberations that it 'shouldn't take them long.'"
The defense alleges in the motion that the allegation of private conversations with members of the jury "is supported by sworn affidavits of jurors and a witness to juror interviews, testimony at in camera proceedings and other evidence including Ms. Hill's own book."
The motion then demands an evidentiary hearing to determine whether a new trial is warranted.
"The bedrock of any trial, and I've done hundreds of them, is that the clerk of court is the person that makes sure the jury gets the food; if they're put up for the night, someplace to stay; their travel accommodations are met. They're not someone that ever should talk to them about the case," Harpootlian said. "I've never had it happen. Again, I've been doing this for a very long time. I've never heard of it happening until this case."
"I'm very optimistic that ultimately we will get a new trial," Griffin said Tuesday. "How long that will take, I don't know."
The motion alleges Hill did these things "to secure for herself a book deal and media appearances that would not happen in the event of a mistrial." Court documents state Hill's book, "Behind the Doors of Justice," was released on Aug. 1.
Griffin said that in the immediate aftermath of the verdict, they were met with a "zone of silence" as jurors would not speak with them.
"And then when the clerk of court wrote her book, published her book, that zone of silence collapsed and jurors were upset about that, the ones we talked with, and they were more than willing to come forward and tell us the things that we had sort of heard in a whisper campaign," he said.
Harpootlian said there is no suggestion that Judge Clifton Newman did anything untoward. But he said that if an evidentiary hearing were to be held on the allegations, Newman himself could be called to testify as a witness.
Harpootlian also sent a letter to U.S. Attorney Adair Boroughs requesting "an urgent federal investigation of conduct" in connection to the allegations.
"Even if no federal charges are ultimately brought, an investigation by Federal Bureau of Investigation agents is needed to discover the truth and to vindicate Mr. Murdaugh's federally guaranteed right to a fair trial," Harpootlian wrote. "The professionalism and integrity of the FBI's agents are unimpeachable. FBI agents will not attempt to direct the outcome of any investigation by pressuring or deceiving any juror or other witness."
Harpootlian ends the letter to Boroughs saying that while Murdaugh "may be the most unpopular man in South Carolina right now" and a "symbol of the Lowcountry judicial corruption," some may "delight in the irony that he may very well be a victim of the corruption he symbolizes."
"Federal law enforcement has long acted as a shield that prevents popular passions against a hated person from injuring the rights enjoyed by all persons," Harpootlian wrote. "I ask that it do so again here."
Harpootlian and Griffin released the following statement Tuesday morning after the motion was filed:
Today, we filed a petition based on newly discovered evidence with the SC Court of Appeals to stay Alex Murdaugh's appeal while a hearing is held on a motion for a new trial.
Concurrently, we have sent a request to the South Carolina U.S. Attorney to open a federal investigation into the violation of Alex Murdaugh's civil rights.
The serious allegations in the petition filed today speak for themselves but we believe they explain a number of peculiarities in the six-week trial. We request that SLED stand down on initiating any investigation of these allegations since they are heavily invested in maintaining Alex's conviction. We suggest that they wait for the Court of Appeals to rule and receive direction from the trial court, if the Court of Appeals remands the case for an evidentiary hearing. We also would request that those in the media and the public respect the privacy of those included in this filing.
Jim and I want to thank those on our team who stand with us today who have worked tirelessly to ferret out the truth.
Alex Murdaugh maintained and still maintains his innocence of the murder of Maggie and Paul and he believes the truth will ultimately prevail.
Judge Clifton Newman sentenced Murdaugh to two life sentences in prison for the killings in early March. Murdaugh, meanwhile, has requested a change of plea hearing, which would indicate he plans to change his not guilty plea to federal financial crimes. The court set that hearing for Sept. 21 in Charleston.
Copyright 2023 WCSC via Gray Media Group, Inc. All rights reserved.