Jelly Roll shares his path out of jail in surprise tour stop at Neb. county corrections programs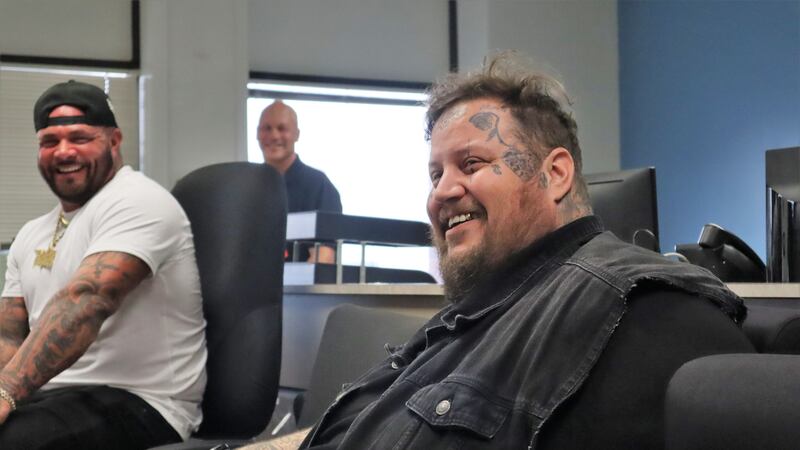 Published: Aug. 27, 2023 at 5:13 AM CDT
OMAHA, Neb. (WOWT/Gray News) - Though country rock music rapper Jelly Roll has been double-booking his Backroad Baptism tour, he has also made it a point to surprise fans who aren't likely to make it to his concerts.
In Omaha, Nebraska, he made a special appearance at a meeting for people making their way through Douglas County's work-release and re-entry programs. Between songs, Jelly Roll and his guitarist shared stories — and lots of laughs — in spite of serious topics. They talked about their journey from incarceration to hit musicians on tour.
WOWT reports they also talked about starting over and the struggles that come with it.
"You have to start a whole life with what you're wearing," Jelly Roll said.
Before things got too heavy, the attention turned to the music.
"I wanna sing some songs. Would that be cool?" he asked.
The group responded with enthusiastic applause — but then came a warning:
"I'm scared of how bad I'm fixin' to sound," he joked. "I had just woke up when they put me in the van this morning. And they tried to put me in the jail van — can you believe that?"
The laughs continued for a while before the singing really got started. Jelly Roll explained it's been a crazy tour schedule, one that reminded him of when he first arrived in jail and had to get used to the routine there.
But the acoustic performance of "Need a Favor" was flawless. He said they'd heard that song on the radio on the way over, and it just blew his mind.
Jelly Roll reminisced about the last time he played in Omaha — for a much smaller audience at The Waiting Room. They also played O'Face in Council Bluffs, Iowa, which he said he remembered as, "like, a dangerous bar — very sketchy."
But Jelly Roll said they were expecting a lot of energy out of the crowd at CHI Health Center arena that night.
"Omaha's always been loud and rowdy," he said. "Eighteen-thousand in Omaha is different than 15,000 in southern California. ... Way more 'my kinda people.'"
He and his guitarist talked about their experience playing for 12,000 at the Walmart Amphitheater in Rogers, Arkansas, the night before, saying it was a bit surreal. They recalled how it wasn't so long ago that they had to split a $200 grocery bill in a Walmart at 2 a.m. to feed eight kids.
The second song they performed was "Love Me," and the last performance for the group was "Save Me," which Jelly Roll said was his favorite.
"It was such a life-turning point for me," he said. "It was what got me into singing. It's what got me accepted into country music."
He said he had a difficult time finding his place in the music industry because of his unique "crossover" genre: not just country or rock, not rap, not religious — but all of them in one.
He said he was grateful that this song had resonated with the downtrodden and that he felt blessed it had helped so many people.
"I'll never write another song in my career, I think, that will ever compare," he said.
Jelly Roll ended the visit with some advice and encouragement for the group, urging them to find something positive to focus on, something they can lean into and swap for their obsession with the things that keep them on a bad path.
That's what he did to turn himself around: He stopped trying to cheat time and started obsessing about music instead of things that were destructive.
"There's something out there that can change your life," he said. "Please take advantage of having people who care."
He said he remembered a time he didn't and instead made it harder for others who were trying to change. But there are people here who are really sick of the pattern, and there are staff around who care, he said.
"These people are underpaid, overworked, underappreciated; and they come into an environment every day that's semi-hostile. ... It's a thankless job," he said.
On his way out, Jelly Roll was presented with a challenge point patch as a token of appreciation for his time and openness with the group. He said the token meant a lot to him; his emotion in the moment was apparent in spite of his continued humorous demeanor.
"I have a really different relationship with law enforcement than I did previously," he said, laughing.
Jelly Roll said that he's become a collector of challenge points in the last year.
"To me, this is more symbolic of my change than anything else, man," he said, getting serious for just a moment. "I got to go into the county jail I was in last, and they gave me a key to the jail."
Before wrapping up, he said he was praying for them and loved them but didn't want to run into them like this again.
"I'm gonna back here every time I come here, and if I see you, I'll be mad at you," he said.
Copyright 2023 WOWT via Gray Media Group, Inc. All rights reserved.