Former Tenn. Governor Don Sundquist dies at 87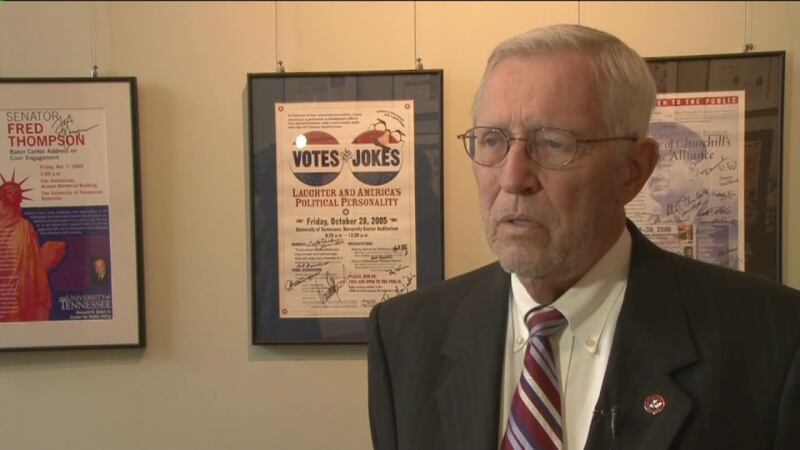 Published: Aug. 27, 2023 at 9:08 AM CDT
|
Updated: Aug. 29, 2023 at 5:12 PM CDT
COLLIERVILLE, Tenn. (WMC) - Former Tennessee Governor Don Sundquist was surrounded by his family when he passed at Baptist Memorial Hospital in East Memphis overnight.
Sundquist, who was 87 years old, and his wife Martha quietly moved back to the Memphis area to The Farms at Bailey Station in Collierville 18 months ago.
Sundquist served as the 47th Governor of Tennessee winning office in 1994 and cruising to re-election in 1998.
Before winning the highest office in state government, Sundquist served as a West Tennessee Congressman, winning a close race in 1982 and easily scoring re-election five more terms in Congress times as a conservative Republican friend of business.
But as Governor, Sundquist proposed a state income tax in 2001 which sparked a huge protest that included broken windows at the state capitol and vandals damaging Sundquist's office.
After retiring from elected politics, Sundquist did some lobbying and settled in Townsend in East Tennessee until his recent return to Shelby County where he raised his family and launched his political career as a business leader in the 1980s.
Memorial services for Governor Don Sundquist will be held in Memphis and in Nashville.
A "Celebration of Life" service will be held in Shelby County on Thursday, August 31, at Christ Church Memphis located at 4488 Poplar Avenue. A short visitation will start at 10 a.m., followed by the "Celebration of Life" service at 11 a.m.
Additional parking will be available at the Oak Court Mall, across the street from the church on Poplar.
Sundquist will lie in state at the Tennessee Capitol rotunda until he is laid to rest on Tuesday, September 5, from 9 a.m. until 3 p.m. His funeral will begin at 11 a.m. at the First Lutheran Evangelical Church located at 1113 8th Avenue, in South Nashville.
The former governor laid to rest at Townsend in east Tennessee where he's lived quietly after a life in politics.
Click here to sign up for our newsletter!
Click here to report a spelling or grammar error. Please include the headline.
Copyright 2023 WMC. All rights reserved.