First Alert Forecast: Feeling much cooler with some showers and storms


Published: Aug. 27, 2023 at 6:04 AM CDT
NASHVILLE, Tenn. (WSMV) - A cold front will make its way through the MidState, dropping our temperatures and humidity quite a bit. It will also bring more showers and storms throughout the day.
Download the WSMV 4 First Alert Weather app for iPhone or Android. Our team of meteorologists will send alerts to your phone about conditions headed your way. They also share custom videos about the weather where you live.
We will finally feel some relief from the extreme heat we experienced all week long. Temperatures today will be in the upper 70s to low 80s with much lower humidity levels. A few showers and storms will develop throughout the day. Just like yesterday, a couple of them could be on the strong to severe side. The main threats are gusty wind and heavy rainfall that could lead to some flooding.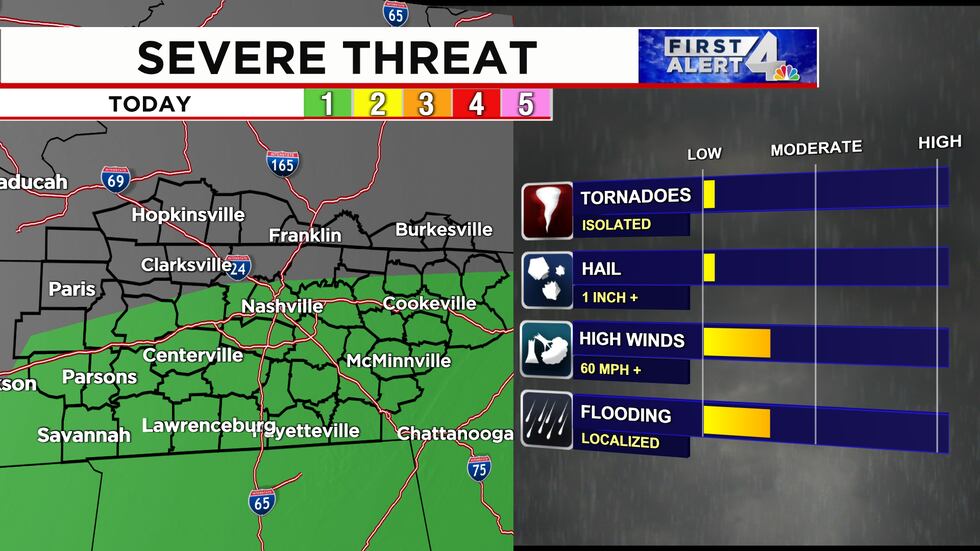 Have weather pictures or videos? Share them here.
The cooler than average weather will stick around all of next week.
Monday will start off with some lingering rain showers from Sunday, so plan on a possible wet morning commute. We will be drier in the afternoon with a mostly cloudy sky. Highs will be in the low to mid 80s with lows in the 60s.
We will see plenty of sunshine all week with very low rain chances. Temperatures stay in the low to mid 80s with lows in the low 60s through the end of the week.
Copyright 2023 WSMV. All rights reserved.