First Alert Forecast: One more day of extreme heat along with some storms
Some strong storms will accompany the heat today as a cold front moves in.
Published: Aug. 26, 2023 at 5:54 AM CDT
NASHVILLE, Tenn. (WSMV) - A First Alert Weather Day continues through this evening due to extreme heat. We could also see some storms this weekend as a cold front moves in. One or two storms could be severe.
Download the WSMV 4 First Alert Weather app for iPhone or Android. Our team of meteorologists will send alerts to your phone about conditions headed your way. They also share custom videos about the weather where you live.
Extremely hot and humid again today with temperatures in the 90s and "feels like" temperatures in the 100s. A Heat Advisory is in effect for most the MidState, while an Excessive Heat Warning has been in issued for our far western counties along with southern Kentucky. Heat Index Values will range anywhere from 105º-115º once again today.
We will also see some showers and storms develop today ahead of a cold front that is approaching Middle Tennessee. Count on very heavy downpours at times. We could also see some gusty wind and localized flooding with one or two of the storms reaching severe criteria.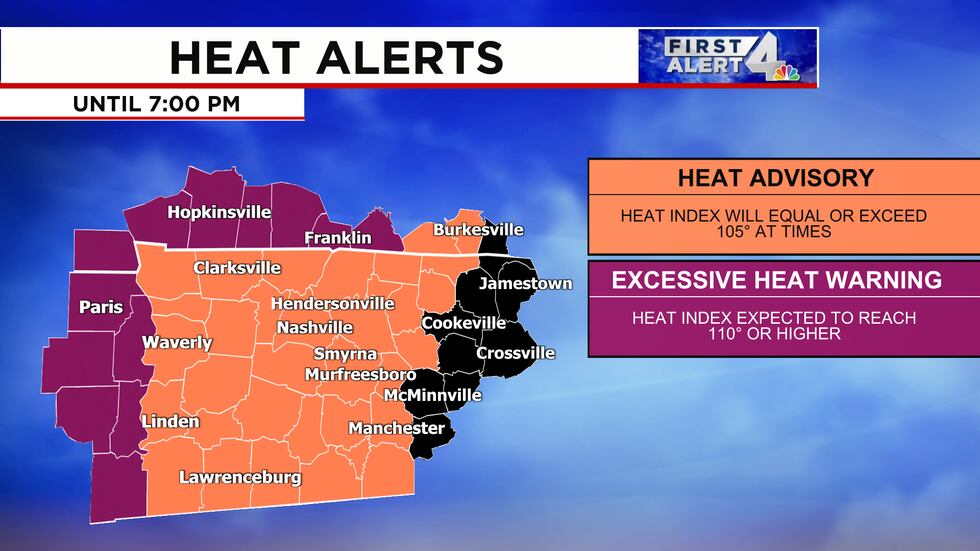 Have weather pictures or videos? Share them here.
Some relief is in store for us for the second half of the weekend. Temperatures Sunday afternoon will be in the mid 80s with much lower humidity. We will still see a few showers and storms during the day, so keep the umbrella around.
We dry out and stay cool for most all of next week. Temperatures stay in the middle 80s Monday through Wednesday with much cooler low temperatures, too, in the middle 60s. By the end of the week, we could even see some low temperatures in the 50s with highs in the low 80s.
Copyright 2023 WSMV. All rights reserved.