First Alert Forecast: Heat continues, but relief is coming
Highs are expected near 100 again today.
Published: Aug. 25, 2023 at 5:29 AM CDT
|
Updated: Aug. 25, 2023 at 5:39 AM CDT
NASHVILLE, Tenn. (WSMV) - Our First Alert Weather Days continue today and tomorrow as this stretch of dangerous heat continues to grip the Mid State.
Highs today are going to push near 100° again, though many areas are still expected to stay in the 90s. With the humidity factored in, heat index values will be as high as 105°-115° at times.
Saturday won't be quite as hot, but we'll still have temperatures well in the 90s with a heat index in the triple digits once again.
Heat Advisories and Excessive Heat Warnings continue through Saturday evening across most of Middle Tennessee and Southern Kentucky.
Download the WSMV 4 First Alert Weather app for iPhone or Android. Our team of meteorologists will send alerts to your phone about conditions headed your way. They also share custom videos about the weather where you live.
Have weather pictures or videos? Share them here.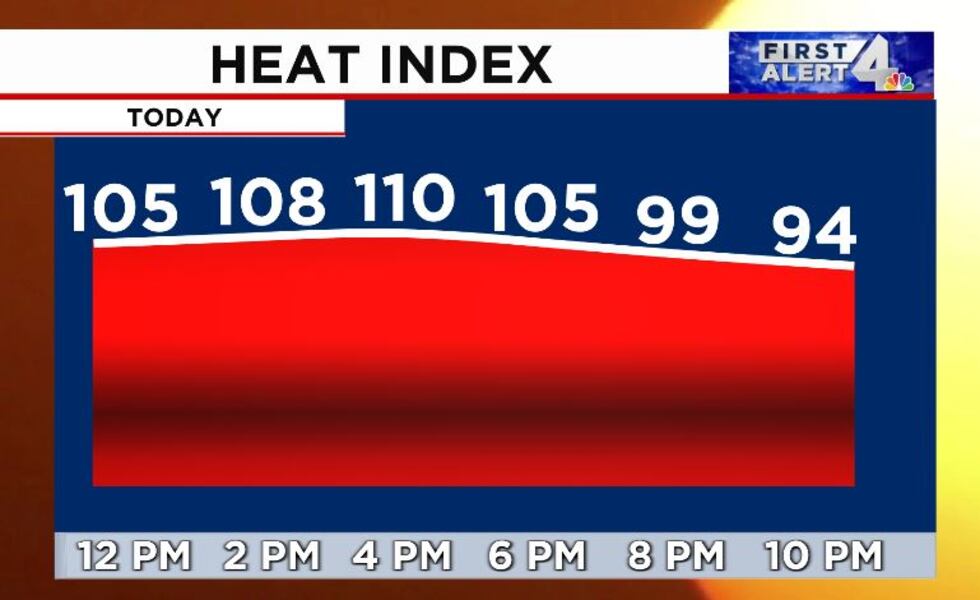 WEEKEND STORMS
While the main focus on Saturday will still be the heat and humidity, make sure you keep an eye to the sky late Saturday afternoon and into the evening for a couple of storms that will fire up in parts of the Mid State. There is a low-end severe weather threat with any storm that could produce heavy rain and gusty winds.
On Sunday, temperatures finally drop back near 90 and some spots in the 80s. A shower also cannot be ruled out for Sunday, but most of us stay dry.
NEXT WEEK
We'll finally see temperatures drop back into the 80s on Monday and Tuesday of next week with a small chance of an afternoon rain shower.
Highs Wednesday and Thursday will be in the mid-80s.
Copyright 2023 WSMV. All rights reserved.