First Alert Weather: Extreme heat and humidity all week long
Temperatures will be in the 90s and 100s Monday through Friday.
Published: Aug. 20, 2023 at 6:05 AM CDT
|
Updated: Aug. 20, 2023 at 7:36 AM CDT
NASHVILLE, Tenn. (WSMV) - A First Alert Weather Day has been issued for every day next week due to dangerous heat and humidity.
Sunday will progressively get hotter as temperatures climb to the mid 90s and humidity begins to creep back in. It will be sunny with a few clouds mixed in.
An extreme heat wave makes its way into the Midstate on Monday bringing temperatures in the upper 90s and low 100s through Friday. Oppressive humidity will make the temperatures feel like 105-110 at times. Be sure to limit your time outdoors this week, stay hydrated and always check your backseat for kids and pets.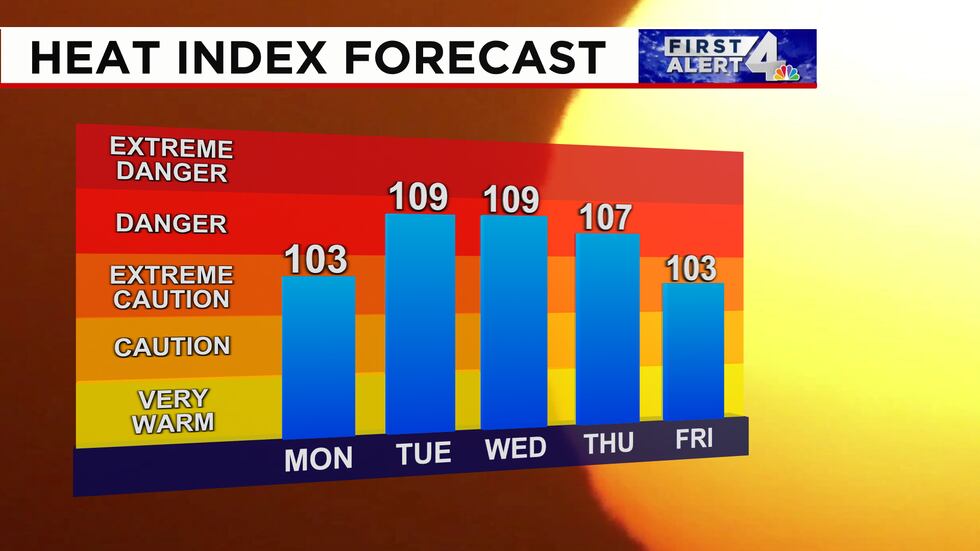 Download the WSMV 4 First Alert Weather app for iPhone or Android. Our team of meteorologists will send alerts to your phone about conditions headed your way. They also share custom videos about the weather where you live.
Low temperatures this week will be in the low 70s.
Each day will feature lots of sunshine. Rain chances are slim to none every single day this week.
Have weather pictures or videos? Share them here.
Copyright 2023 WSMV. All rights reserved.