At least six killed as raging wildfire destroys much of Hawaii community, officials say
Published: Aug. 9, 2023 at 6:04 AM CDT
|
Updated: Aug. 9, 2023 at 9:56 PM CDT
LAHAINA, Hawaii (KHNL/KGMB/Gray News) - At least six people have been killed in a massive brush fire that has destroyed many communities in Maui, and authorities fear that number could rise as emergency responders slowly move into fire-ravaged areas.
KHNL reports at least three large fires are still active with more than 100 firefighters trying to battle the flames.
In addition to the six people killed, authorities confirmed at least 20 people suffered serious burns in the wildfires and several were airlifted to Oahu. Three are in critical condition at the Straub Medical Center's burn unit.
Honolulu Emergency Services Department spokesperson Shayne Enright confirmed a woman in her 60s was transported to a Honolulu hospital burn center in critical condition. A firefighter in Maui was also hospitalized in stable condition after inhaling smoke.
Meanwhile, authorities say Civil Air Patrol and Maui Fire Department flyovers conducted Wednesday show at least 271 structures were damaged or destroyed by the flames.
Acting Gov. Sylvia Luke issued an emergency proclamation on behalf of Gov. Josh Green, who is traveling and activated the Hawaii National Guard to assist. Luke said it could take months to assess the full scope of the damage from the fires — and that recovery will take years.
"This is the entire state coming together to assist our family on Maui," she said, at a news conference Wednesday. "We never anticipated a hurricane that did not make impact would cause this type of wildfires. Wildfires that wiped out communities. Wildfires that wiped out businesses."
More than 2,100 people were housed overnight at the county's four emergency shelters and the American Red Cross of Hawaii is putting out an urgent call for volunteers to staff more evacuation centers.
Residents said an overwhelmed fire force could do little as flames ripped through historic Lahaina town, destroying dozens of homes and businesses in what onlookers believe is the worst natural disaster in Hawaii's history since Hurricane Iniki in 1992.
On Wednesday afternoon, President Biden offered his condolences to the families of those who lost loved ones and offered federal support.
"We are grateful to the brave firefighters and first responders who continue to run toward danger, putting themselves in harm's way to save lives," he said, in a statement from the White House. "I have ordered all available Federal assets on the Islands to help with response. The Hawaiian National Guard has mobilized Chinook Helicopters to help with fire suppression and search and rescue on the Island of Maui. The U.S. Coast Guard and Navy Third Fleets are supporting response and rescue efforts. The U.S. Marines are providing Black Hawk Helicopters to fight the fires on the Big Island. The Department of Transportation is working with commercial airlines to evacuate tourists from Maui, and the Department of the Interior and the United States Department of Agriculture stand ready to support post fire recovery efforts."
The full scope of the devastation in Lahaina isn't known, but videos on social media show a wall of flames descending on Front Street in Lahaina and destroying everything in its path. One terrifying video posted by fleeing residents shows uncontrolled flames on both sides of their vehicle. The video also shows burned out cars.
Officials say that the Coast Guard deployed a helicopter and boat to Front Street Beach and the Lahaina Small Boat Harbor to rescue a number of people from the water.
At about 10:50 p.m. local time on Tuesday, the Coast Guard said it had rescued at least 14 people from waters off Lahaina.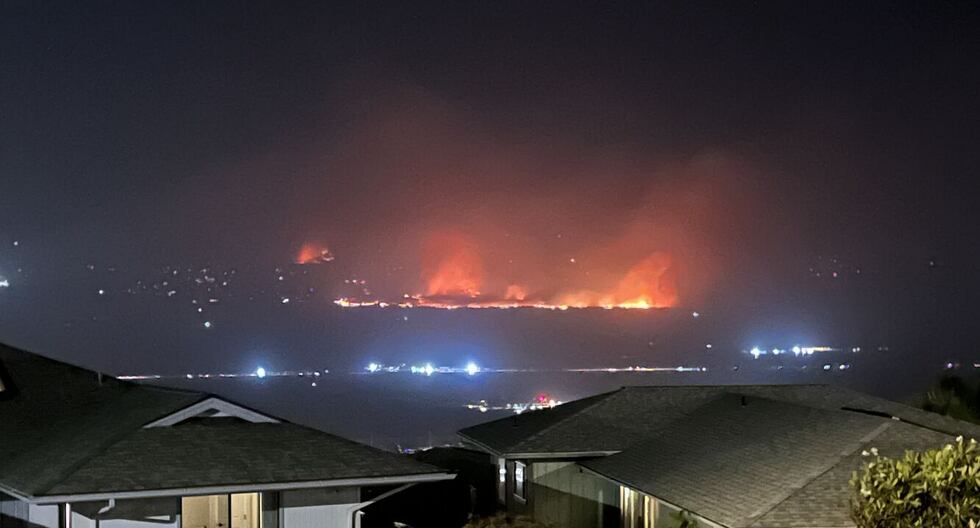 Lahaina resident Tiare Lawrence compared the scene to something out of the apocalypse, with people running for their lives.
"It's just so hard. I'm currently Upcountry and just knowing I can't get a hold of any of my family members. I still don't know where my little brother is. I don't know where my stepdad is," she said.
Front Street business owner Alan Dickar says he watched business after business in the historic district going up in flames.
"Buildings on both sides were engulfed. There were no fire trucks at that point. I think the fire department was overwhelmed," Dickar said. "That is the most important business street on Maui."
A Maui County spokesperson confirmed there were "multiple" structure fires in addition to "extensive evacuations" in the Lahaina area.
"The Coast Guard has been responding to impacted areas where residents are entering the ocean due to smoke and fire conditions," the county said, in a news release Tuesday night.
The brush fire in Lahaina is one of at least seven sizable wildfires that firefighters are battling statewide amid treacherous conditions — powerful winds, low humidity and dry brush.
The winds, fueled by Hurricane Dora as it passes south of the state, have topped 55 mph in many spots, with gusts to 70 to 80 mph. In addition to wildfires, first responders are grappling with downed trees and damaged structures.
Also in Maui, crews are fighting a fire in Kula that's destroyed at least two structures and displaced hundreds. Fire crews are also fighting large wildfires on Hawaii Island, where evacuations continue.
A growing brush fire was also reported in Kihei.
Tens of thousands of people across Maui are without power after high winds downed more than 30 poles and flames destroyed even more infrastructure. Cell service is also nonexistent in some places except for those with satellite phones, KHNL reported.
The state plans to fly 4,000 tourists out of Maui on Wednesday to Oahu, multiple sources confirmed to KHNL. They will be put up at the Hawaii Convention Center. Authorities said at least 2,000 people were waiting at Kahului's airport.
Copyright 2023 KHNL/KGMB via Gray Media Group, Inc. All rights reserved. The Associated Press contributed to this report.