First Alert Weather Day: Two rounds of strong-to-severe storms
One round this afternoon and another round overnight.
Published: Aug. 9, 2023 at 3:54 AM CDT
|
Updated: Aug. 9, 2023 at 4:56 AM CDT
NASHVILLE, Tenn. (WSMV) - It's a day to stay weather-aware across the Midstate as two rounds of strong storms will move in this afternoon and again overnight.
The main concern with today's storms will be damaging wind gusts. We also cannot rule out the possibility of some brief spin-up tornadoes. Hail and flooding may also accompany these storms. The first round is expected between 1 - 7 p.m. The next round overnight will start moving into Middle Tennessee around 10 p.m. and last until 5 a.m.
Download the WSMV 4 First Alert Weather app for iPhone or Android. Our team of meteorologists will send alerts to your phone about conditions headed your way. They also share custom videos about the weather where you live.
Have weather pictures or videos? Share them here.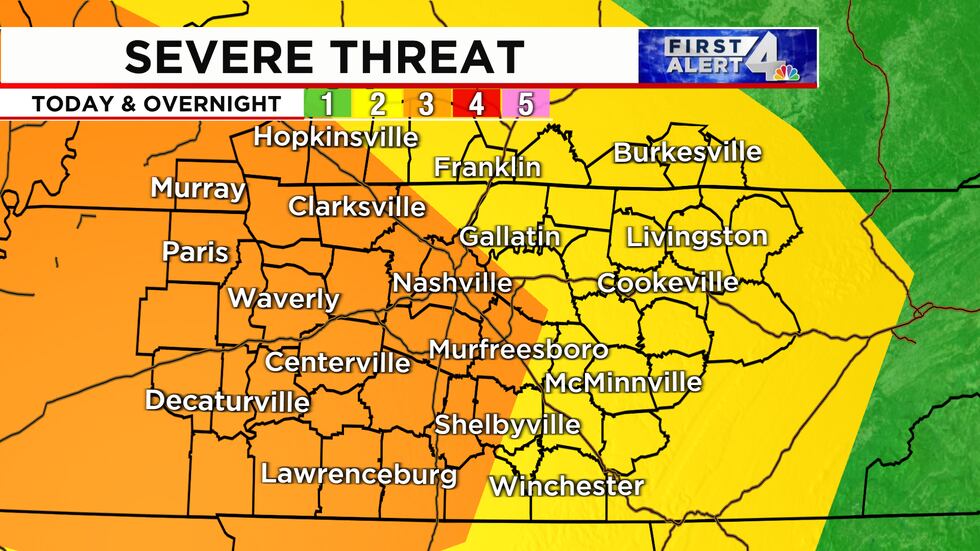 Rain pushes out tomorrow morning and will leave behind a mix of sun and clouds throughout the day with temperatures in the mid-80s.
Friday is looking partly cloudy and mostly dry. Highs will be around 90º.
This weekend, more rain is expected. We'll see scattered thundershowers throughout the afternoon both Saturday and Sunday. Highs on both days will be in the upper 80s with lows in the low 70s.
We'll see some more off-and-on rain again on Monday with highs staying in the upper 80s.
Tuesday will be a little cooler, dry and sunny. Morning temperatures will start off in the mid-60s with highs in the mid-80s by the afternoon.
Copyright 2023 WSMV. All rights reserved.