Local turf company trailers stolen from Nashville construction site
Authorities have recovered one of the trailers in Kentucky.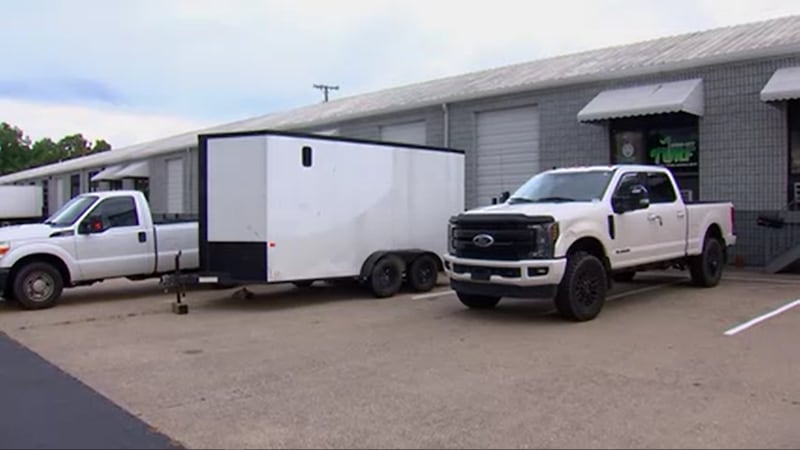 Published: Aug. 4, 2023 at 11:15 PM CDT
NASHVILLE, Tenn. (WSMV) - A turf company said thieves took two of their trailers with all of their heavy-duty equipment, including power tools and machinery.
Music City Turf, based in Goodlettsville, is working on a large-scale golf green project in Nashville. It's one of their biggest projects so far, and this recent theft has been a major setback.
"We're about to crush it with this installation. Everybody's super excited about it. We had a long time to plan it out and you just show up and everything you have is gone," said Ricky Sessum, CEO and founder of Music City Turf.
Thieves took the company's box trailer and a 20-foot flatbed trailer from the site. Sessum said the items were locked up and even had boots on them inside of a gated property.
"It felt very secure. You know they had a high security fence going around the entire perimeter, with a sliding chain linked fence," said Sessum.
Sessum explained just how secure everything was or so he thought.
"We had tongue locks, chains, and wheel boots on these trailers. I mean they cut through everything," said Sessum.
In the early morning hours on July 15, police said two trailers were taken from this gated construction lot on Basswood Avenue. Sessum said this type of theft is a big hit for a company just getting on their feet since opening during the pandemic.
"So, when you take a hit on $70,000 and for tools I can't just order on Amazon. There's no turf wholesale supplier for installation tools anywhere remotely close to this area right now," said Sessum.
He posted what happened in a NextDoor app and on social media. Hours later, a homeowner near the site shared with him surveillance video of the thieves driving down the road with the trailers.
"And in three hours later the same truck came by going in the same direction with our 20-foot flatbed trailer," said Sessum.
It's hard to make out the vehicles in the video but Sessum said they found a clue connecting them to the suspect at the site.
"We also found a Walmart receipt for the Dickerson Pike Walmart that was time stamped for about 9:51 Saturday night, and we just assumed that maybe fell out of the vehicle."
He gave that information to police and began his own investigation as well.
"We found out who he was went by his house found the vehicle that was in the Ring camera video's ran the license plate that was registered to somebody else that lived a mile down the road. I then went to his house and found my 20-foot trailer sitting in his driveway," said Sessum.
Sessum recovered the second trailer an hour away.
"I got a call from my detective here at the West Precinct three days ago and they said they found my trailer in Kentucky," said Sessum.
But the trailer was empty. Sessum said law enforcement in Kentucky told him that the person who had his trailer told them he had just purchased it.
"He had a bill of sale and a copy of a driver's license that didn't match the person who initially took everything, so it makes you think it's quite the operation going on down here."
For this company they're surprised they were able to get their trailers back, but wishes it could have been the expensive power tools.
Despite what happened, he said the grind continues.
"Let's go down the street to Lowe's. Let's get a couple of hand rakes and pickaxes. We don't have the equipment to do this 14,000-square foot green, but let's do what we can, you know, just keep going," said Sessum.
The owner told WSMV4 some friends have let him borrow tools. He did have insurance but said it will be a while before it's processed.
As far as the investigation, Metro Police said they have not identified any suspects in this case.
Copyright 2023 WSMV. All rights reserved.