First Alert Forecast: Storms through this weekend


Published: Aug. 5, 2023 at 6:35 AM CDT
NASHVILLE, Tenn. (WSMV) - Some strong storms will roll through the Midstate today and tomorrow.
Watch for spotty dense fog early this morning. A Dense Fog Advisory is in effect until 8:00 A.M. Another batch of rain and storms will be moving through, primarily affecting out western counties. Nashville may see a few showers, but will stay mostly dry throughout today. Highs will be in the upper 80s to about 90º and a little humid. Later tonight, some storms will move through. Some could be strong and last into the overnight hours.
Sunday will be variably cloudy. A First Alert Weather Day has been issued because of the possibility of a few strong storms during the afternoon and evening. Damaging wind gusts and hail will be possible.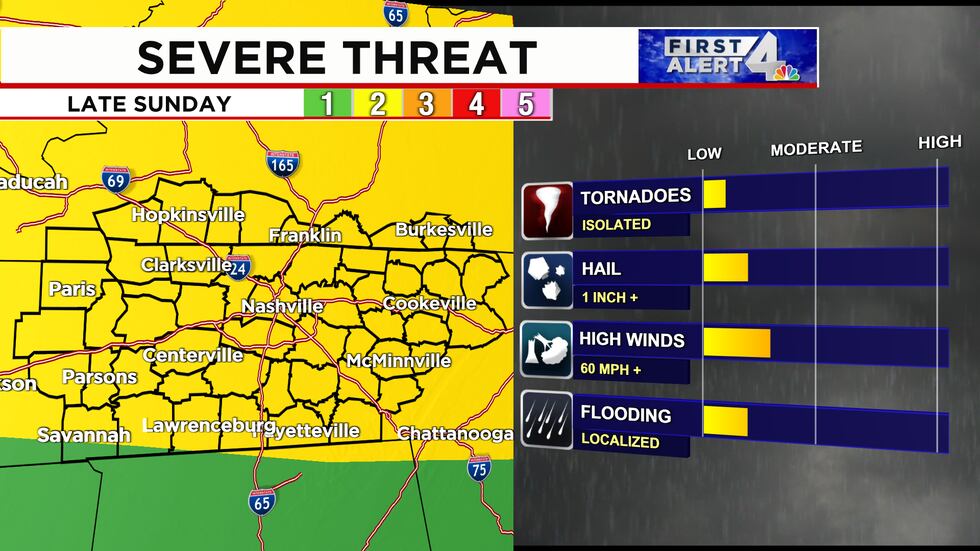 Early next week will feature drier weather. A few showers and storms will still be possible on Monday, especially over eastern Middle Tennessee. Any that can develop there could become strong, along a cold front. Nashville and areas west look to stay dry and sunny.
Cooler air takes over for the rest of the week. Highs will be in the mid to upper 80s.
We will be dry on Tuesday, but more rain moves in for the middle to end of the week. Expect scattered showers and storms Wednesday, Thursday and Friday.
Copyright 2023 WSMV. All rights reserved.