First Alert Forecast: Some relief from the extreme heat
It won't be as hot and humid heading into next week.
Published: Jul. 30, 2023 at 5:53 AM CDT
NASHVILLE, Tenn. (WSMV) - Temperatures cool down a little bit and become more seasonable as we head into next week.
Download the WSMV 4 First Alert Weather app for iPhone or Android. Our team of meteorologists will send alerts to your phone about conditions headed your way. They also share custom videos about the weather where you live.
Highs today will only top out in the upper 80s to low 90s. It will still be a little humid outside, but it won't be overly oppressive like it has been the last several days. We can't rule out a spotty shower or two, but the rain chance today is only about 20%. Low temperatures will also be cooler, too, bottoming out in the upper 60s.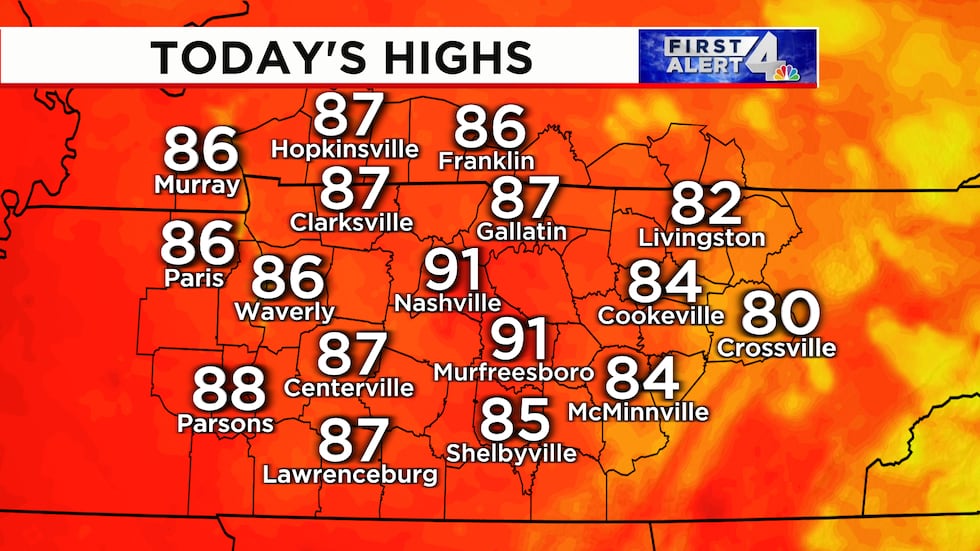 Have weather pictures or videos? Share them here.
Next week will feel a little better. Temperatures will be right around where they should be for this time of the year, if not even a little below average.
Expect sunshine and dry conditions for Monday and Tuesday. Highs will be in the upper 80s to low 90s. Lows in the upper 60s.
Highs on Wednesday will only reach the mid 80s, which should feel nice. It will be mostly cloudy with some rain showers expect late at night into the overnight hours. That rain will carry into Thursday morning with some scattered thunderstorms possible.
The unsettled weather looks like it will stick around into Friday and Saturday, as well. Expect some off and on showers and storms at times. Highs will stay in the low 90s with lows in the mid 70s.
Copyright 2023 WSMV. All rights reserved.