First Alert Forecast: More rain today south of I-40


Published: Jul. 9, 2023 at 5:52 AM CDT
NASHVILLE, Tenn. (WSMV) - More scattered showers and storms will develop today in the southern counties of Middle Tennessee.
Download the WSMV 4 First Alert Weather app for iPhone or Android. Our team of meteorologists will send alerts to your phone about conditions headed your way. They also share custom videos about the weather where you live.
Have weather pictures or videos? Share them here.
While only the southern half of the Midstate seeing rain today, the northern half will be mostly dry all day. Everyone will be a littler cooler than yesterday with highs in the low 80s, but it will still be humid, making it feel like the upper 80s outside today. A few of the isolated storms that develop today could produce some heavy rain and gusty wind, but the severe threat is extremely low. Localized flooding could be an issue for some today with these storms because of all the rain we had yesterday.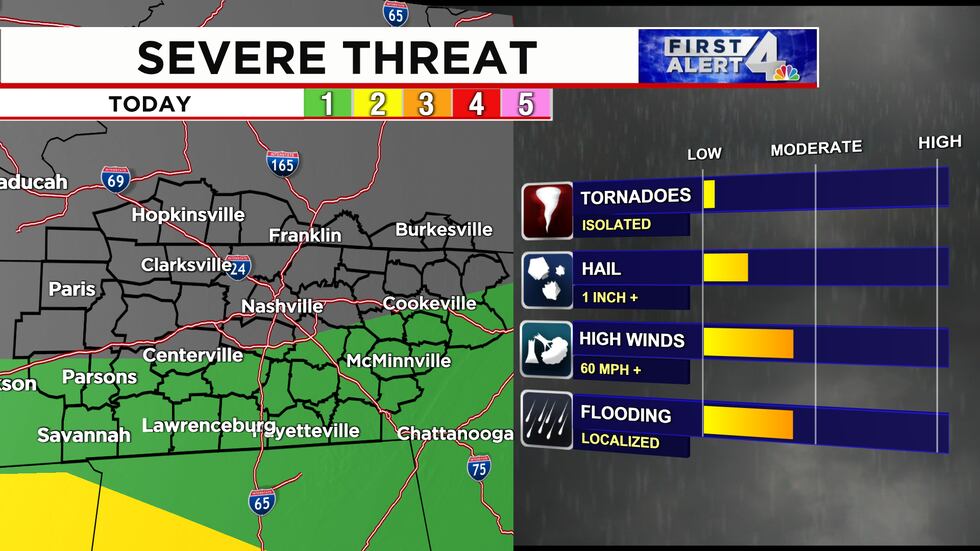 We finally dry out as we head into next week. Monday and Tuesday look bright and sunny. Both mornings will start off cooler with lows in the upper 50s to low 60s. Daytime highs will reach the upper 80s to low 90s.
It will still be mostly sunny and hot on Wednesday with a high of 94º.
More rain moves back in to the forecast for the end of the week and into the weekend. Expect scattered showers and thunderstorms Thursday, Friday and Saturday. Each day will feature highs in the low 90s and lows in the low 70s.
Copyright 2023 WSMV. All rights reserved.