First Alert Weather Day: Some strong storms possible
Published: Jul. 8, 2023 at 6:35 AM CDT
NASHVILLE, Tenn. (WSMV) - Damaging wind, hail, and heavy downpours could accompany some isolated storms later this afternoon into the evening.
Download the WSMV 4 First Alert Weather app for iPhone or Android. Our team of meteorologists will send alerts to your phone about conditions headed your way. They also share custom videos about the weather where you live.
Have weather pictures or videos? Share them here.
We'll see a few waves of rain today. A few showers and thunderstorms will be possible this morning-- mainly for areas in western Middle Tennessee. Then, more rain and storms develop later in the afternoon to evening. Areas west of I-65 have the best chance of seeing gusty wind and hail with some of these storms. Temperatures today will be in the upper 80s, maybe a few low 90s for some. Rain will clear out later tonight.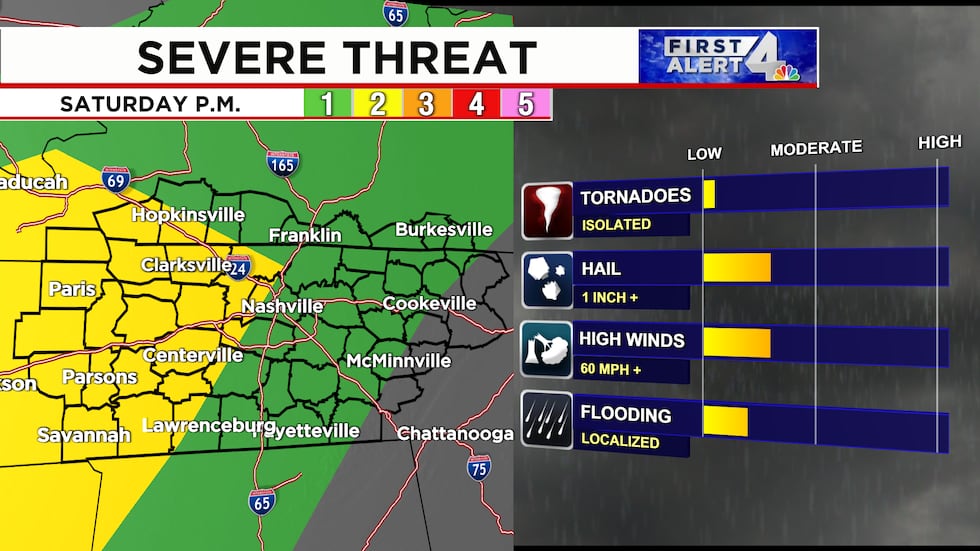 More scattered showers and storms are in the forecast again Sunday. The severe threat is much lower than today. Temperatures will be in the low to mid 80s.
We dry out and see much more sunshine Monday and Tuesday. Highs will be a little warmer in the upper 80s to low 90s. However, low temperatures will be much cooler in the low 60s, some areas even dropping to the 50s overnight.
Wednesday will be hot in the low 90s with a small chance of rain.
Don't keep the umbrella too far away. Better rain chances come at the end of the week. We'll see more scattered showers and thunderstorms on Thursday and Friday. Temperatures will be in the upper 80s to low 90s with lows in the low 70s.
Copyright 2023 WSMV. All rights reserved.