Downtown Nashville's July 4th celebration delayed due to weather, officials say
Hundreds of thousands will descend upon downtown Nashville for one of the biggest celebrations in the country.
Published: Jul. 4, 2023 at 10:40 AM CDT
|
Updated: Jul. 4, 2023 at 10:48 AM CDT
NASHVILLE, Tenn. (WSMV) - Officials released the new schedule for Nashville's Let Freedom Sing! Fourth of July event Tuesday night due to a weather delay.
Brad Paisley 8:35-9:50 p.m.

Nashville Symphony 9:50 p.m.

Fireworks 9:55-10:25 p.m.
Officials said Nashville's Let Freedom Sing! Fourth of July event has been delayed due to lightning in the area.
MNPD urges safety during July 4th celebration downtown
The 'Let Freedom Sing! Music City 4th' celebration is expected to bring more than 250,000 people to downtown Nashville.
Hundreds of Metro Nashville Police officers will be on patrol for added security. They are asking everyone to stay vigilant because this area will be packed with people. If you see something suspicious, talk to a nearby officer or call 615-880-1515. It will get you in contact with a nearby MNPD command post.
"I would say there's a good police presence and I would say everyone is in that mood so you kind of got to take that to where it is and believe that we are in a good place, good people, looking to have a good time," said Jorge Basto, visiting from Atlanta.
MNPD is reminding everyone that fireworks are illegal for public use in Davidson County. They do not want people to call 911 to report fireworks, however. First responders want to keep those lines open for emergencies. Instead, submit a complaint online to Hub Nashville.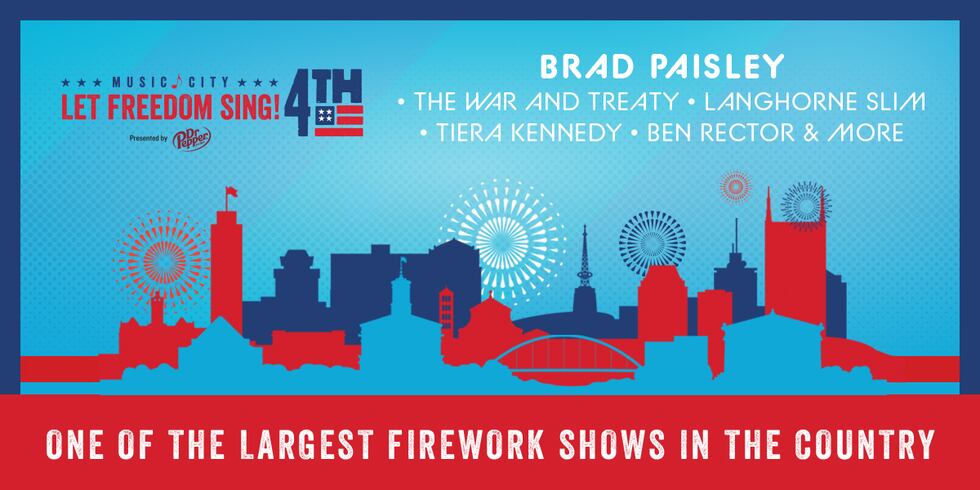 People driving should not stop on the shoulders of the interstate to watch the fireworks display as stopping or parking on the interstate is inherently dangerous. The interstate loop on the east side of downtown will close for about one hour beginning 30 minutes before the fireworks display. The closure will impact four interchanges: Shelby Avenue, James Robertson Parkway, Woodland Street/Interstate Drive, and Ellington Parkway/Spring Street.
If you are planning to come out today and celebrate the 4th, leave your backpacks and coolers at home. Refillable water bottles will be allowed so you can stay hydrated throughout the day.
Brad Paisley and Ben Rector will be performing today before the firework show. The Nashville Symphony will play during the firework beginning at 9:30 p.m.
Copyright 2023 WSMV. All rights reserved.