Federal judges in Kentucky and Tennessee block portions of transgender youth care bans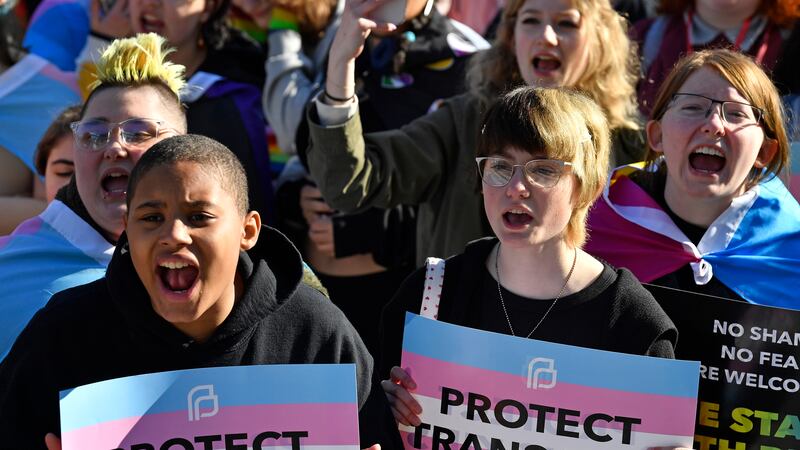 Published: Jun. 28, 2023 at 5:56 PM CDT
|
Updated: Jun. 28, 2023 at 9:37 PM CDT
LOUISVILLE, Ky. (AP) — Federal judges in Kentucky and Tennessee temporarily blocked portions of bans on gender-affirming care for transgender youth Wednesday, handing down the rulings shortly before the statutes were set to go into effect.
The ruling is similar to roadblocks that federal courts have thrown up against Republican-dominant states in their pursuit to prevent young people from receiving transgender health care.
In both Kentucky and Tennessee, the judges blocked portions of the law that would have banned transgender youth from accessing puberty blockers and hormone therapy. In the Tennessee case, the judge stopped short of also blocking the ban on gender-affirming surgeries for youth.
Meanwhile, the Kentucky case didn't address surgeries, but U.S. District Judge David Hale, an Obama administration appointee, did side with seven transgender minors and their parents, who sued the state officials responsible for enforcing the provisions banning the use of puberty blockers and hormones. The plaintiffs contend the ban would violate their constitutional rights and interfere with parental rights to seek established medical treatment for their children.
The ruling blocked the "most egregious parts of Kentucky's anti-trans law," said Chris Hartman, executive director of the Fairness Campaign, a Kentucky-based LGBTQ+ advocacy group.
Hartman added that transgender children and their families were "living in fear" of the approaching date for the restrictions.
Kentucky's Republican Attorney General Daniel Cameron called Hale's decision "misguided," saying it "tramples the right" of state lawmakers to make public policy. The state's legal chief promised that his office will continue doing "everything in our power" to defend the measure. The provisions dealing with puberty blockers and hormone therapy were supposed to go into effect Thursday.
In Tennessee, U.S. District Judge Eli Richardson, a Trump administration appointee, stressed that his ruling lined up with federal decisions blocking similar bans across the country but added that courts must "tread carefully" when preventing a law from being enforced.
"If Tennessee wishes to regulate access to certain medical procedures, it must do so in a manner that does not infringe on the rights conferred by the United States Constitution, which is of course supreme to all other laws of the land," Richardson wrote.
The law, scheduled to go effect on July 1, would have banned Tennessee health care providers from providing hormone treatments or surgeries for transgender youth where the purpose is to allow the child to express a gender identity "inconsistent with the immutable characteristics of the reproductive system that define the minor as male or female."
The law included a nine-month phase out period by March 31, 2024, for medical treatments and said no new treatments could be started. Health care providers who violated the law risked facing a $25,000 penalty and other disciplinary actions.
Tennessee's Republican-dominant General Assembly, as well as some Democratic lawmakers, quickly advanced the ban after Nashville's Vanderbilt University Medical Center was accused of opening its transgender health clinic because it was profitable. Videos surfaced of a doctor at the private hospital touting that gender-affirming procedures are "huge money makers." Another video showed a staffer saying anyone with a religious objection should quit.
Republican leaders demanded an investigation into the hospital and used the incident to spur their political base ahead of the 2022 midterm elections
The political tension has also popped up in Kentucky, where Democratic Gov. Andy Beshear is running for a second term this year and is being challenged by Cameron, who is defending the gender-affirming care ban. The race has become one of the nation's most closely watched campaigns in 2023.
Beshear originally vetoed the measure in March, saying it allows "too much government interference in personal healthcare issues" but the state's GOP-dominated legislature overrode the veto.
To date, at least 20 states have enacted laws restricting or banning such treatments even though it's been available in the United States for more than a decade and is endorsed by major medical associations. Most recently, North Carolina lawmakers finalized their own version of a gender-affirming care ban on Wednesday.
Yet, when challenged, federal courts have been quick to block them from going into effect. A federal judge struck down Arkansas' ban as unconstitutional last week, and federal judges have temporarily blocked bans in Alabama and Indiana. Oklahoma has agreed to not enforce its ban while opponents seek a temporary court order blocking it. A federal judge has blocked Florida from enforcing its ban on three children who have challenged the law.
___
This story has been corrected to show that Hale was an Obama administration appointee, not Trump.
___
Kruesi reported from Nashville, Tennessee.
Copyright 2023 The Associated Press. All rights reserved.