First Alert Weather Day: Strong storms later tonight
Main threats will be damaging wind gusts and hail.
Published: Jun. 25, 2023 at 6:23 AM CDT
NASHVILLE, Tenn. (WSMV) - It will be a hot and steamy day across the Midstate. Then strong storms move in late tonight.
Download the WSMV 4 First Alert Weather app for iPhone or Android. Our team of meteorologists will send alerts to your phone about conditions headed your way. They also share custom videos about the weather where you live.
Have weather pictures or videos? Share them here.
A First Alert Weather Day is in effect for tonight as strong-to-severe storms will develop later tonight across Middle Tennessee and Southern Kentucky. The timing is looking like 8:00 P.M. to 2:00 A.M. The main concern will be damaging straight-line winds, but we could see some hail and extremely heavy downpours that could lead to localized flooding. At this time, the tornado threat remains very low.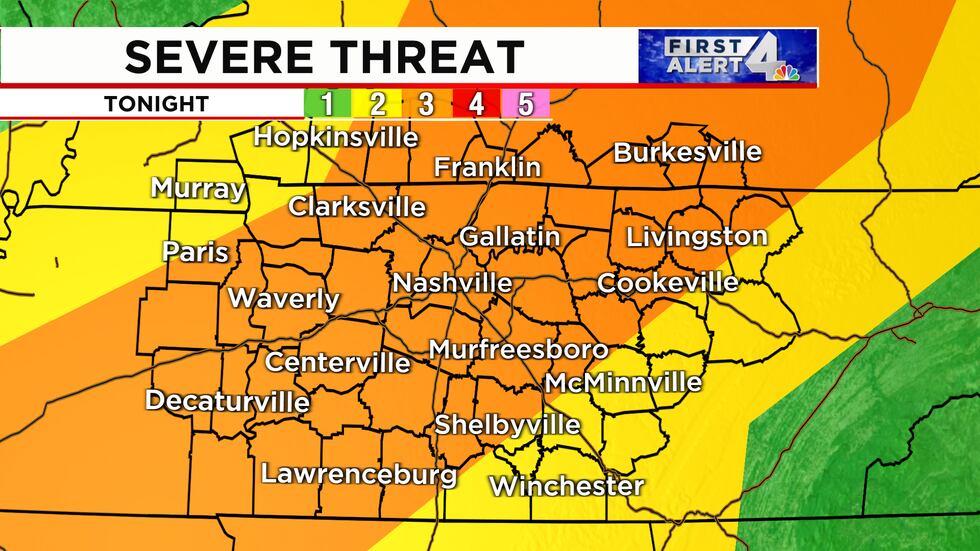 Before the storms move in, it will be a very hot day. High temperatures will be in the low 90s with dew points in the 70s. That will make our Heat Index Values (or "feels like temperatures") feel like the triple digits. Many spots along and west of I-65 will feel well over 100º.
It will be late overnight when the severe threat is over. Any lingering showers should clear up overnight into Monday morning.
Monday, Tuesday and Wednesday will be mostly sunny with high temperatures around 90º. Lows will be in the mid-60s.
It gets hotter heading into the end of the week into next weekend. Highs soar to the upper 90s with a small chance of rain Thursday and Friday. Lows will be in the 70s.
Our next good rain chance comes Saturday afternoon. Expect some scattered showers and thunderstorms through the day with a high of 97º.
Copyright 2023 WSMV. All rights reserved.