First Alert Forecast: The heat returns this weekend with strong storms Sunday
Heat Index Values will be over 100 degrees Sunday afternoon, then strong storms move in at night.
Published: Jun. 24, 2023 at 6:08 AM CDT
NASHVILLE, Tenn. (WSMV) - We're cranking up the heat this weekend with highs returning to the 90s.
Be prepared for storms late Sunday night that could bring damaging wind gusts and hail.
Download the WSMV 4 First Alert Weather app for iPhone or Android. Our team of meteorologists will send alerts to your phone about conditions headed your way. They also share custom videos about the weather where you live.
Have weather pictures or videos? Share them here.
Today is going to be a perfect pool day. Expect a partly cloudy sky with high temperatures in the low 90s. We could see an isolated shower or two late at night into the overnight hours, but for the most part, we should remain dry. Lows will be in the upper 60s to low 70s.
Sunday is a First Alert Weather Day due to extreme heat and strong storms. We could see a few showers and storms early to start the morning, but the afternoon is looking dry. It's going to be very hot and steamy in the afternoon with temperatures in the 90s and dew points in the 70s. That's going to make the Heat Index-- or "feels like" temperatures-- climb into the triple digits. It will feel like 100º or higher in the afternoon, especially along and west of I-65.
Later in the evening, a line of storms will push through the Midstate. Some of these storms will be strong-to-severe with very heavy downpours that could produce some damaging wind gusts and hail. At this time, the tornado threat is very low. We could see some localized flooding from the heavy rain. The timing is looking to be later at night. Western counties will see the storms around 7-8 P.M., Nashville around 9-10 P.M., and moving into the Plateau around 11 P.M. The strongest storms will mainly be along and north of I-40.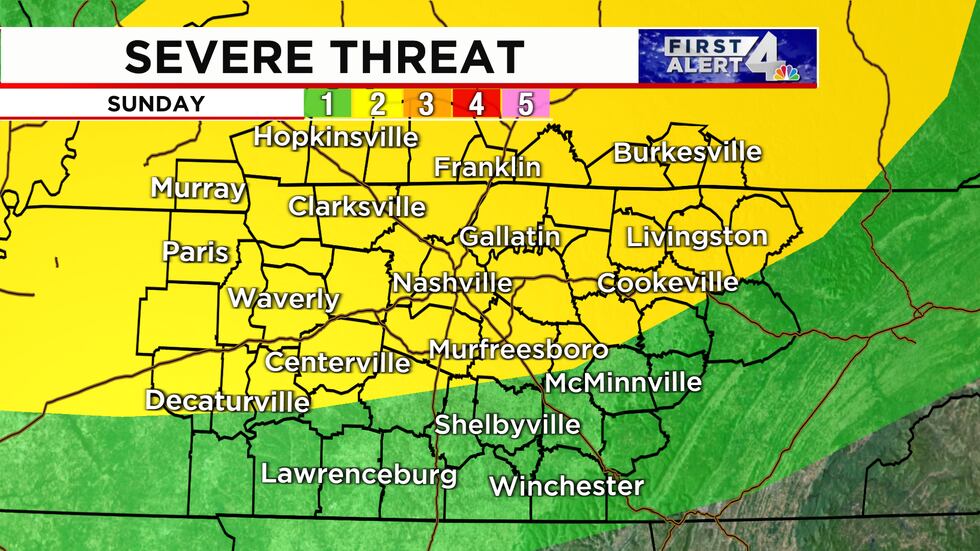 A lingering shower is possible Monday, but the rest of the day will stay dry. It will be another warm day around 90º.
The summer-like weather is here to stay for a while. Each day next week will feature temperatures in the upper 80s to low 90s with plenty of sunshine. Lows will also be warm in the upper 60s to low 70s.
Our next rain chance will come late Thursday into Friday. A few isolated showers and storms will be expected late into the overnight hours.
Copyright 2023 WSMV. All rights reserved.