Man who shot MNPD officer dies after gunfire exchange with SWAT officers
Detective Donovan Coble was shot after he encountered the man near the airport.
Published: Jun. 1, 2023 at 3:06 PM CDT
|
Updated: Jun. 2, 2023 at 6:16 AM CDT
NASHVILLE, Tenn. (WSMV) – The man accused of shooting a Metro Police officer on Thursday afternoon has died, Metro Nashville Police said.
Police said Delama Casimir, 37, of Pompano Beach, Florida, died at 7:25 p.m. at Vanderbilt University Medical Center after he engaged a Metro Police SWAT officer from behind a brush pile at a home on Upshaw Drive. Casimir was shot in an exchange of gunfire.
Casimir is accused of shooting Metro Police Detective Donovan Coble, 33, a four-year veteran of the police force, earlier in the afternoon. Coble is stable and recovering from a gunshot wound to his side/rib area, according to Metro Police. Coble, who is expected to recover, is assigned to the Hermitage Precinct's Community Field Intelligence Unit.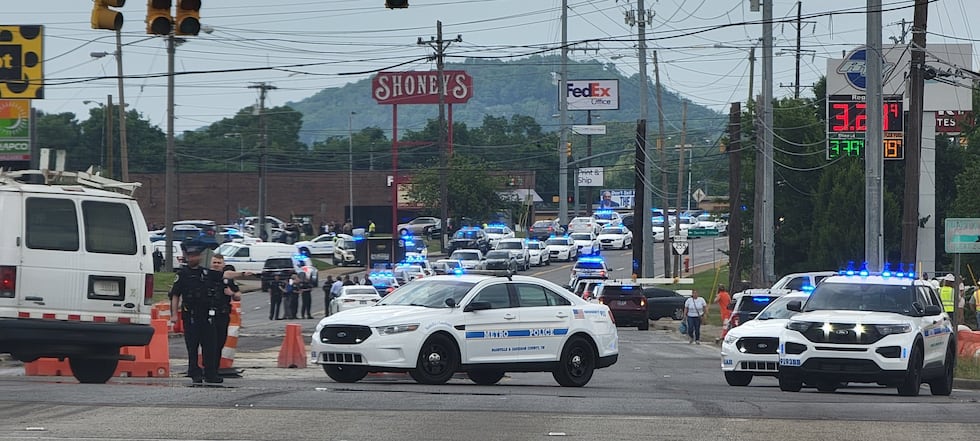 Coble and other detectives responded to a call around 2:30 p.m. at The Parking Spot, an airport area parking lot for travelers, concerning an armed man who was breaking into cars. Coble's body-worn video shows the detective encountering Casimir in a rear parking lot. Police said Casimir was ordered to stop, but instead he ran through the lot and jumped over a wooden fence. Coble jumped the fence with a Taser in his hand and again ordered Casimir to stop.
During the pursuit, Coble transitioned to his pistol just before video shows Casimir pointed a .380 semi-automatic pistol over his shoulder in Coble's direction and fired. Coble was struck in the side during the exchange of gunfire.
Video showed Casimir going down in heavy brush. Coble radioed that he had been shot and hurried back to the street. Another detective picked Coble up and took him to Vanderbilt University Medical Center.
Hermitage Precinct and SWAT officers responded to the area to search for the then unidentified gunman.
At 3:35 p.m., SWAT officer Tim Brewer was clearing a section of heavy foliage when he came upon Casimir in the brush. Brewer began shouting demands to Casimir and reported seeing the pistol.
Casimir was transported to Vanderbilt University Medical Center where he later died.
Coble was named Officer of the Year earlier this week by the Donelson-Hermitage Exchange Club. Brewer is a 16-year Metro Police veteran.
Astrid Gutierrez heard the commotion happening outside her Upshaw Drive home. She was scared because she didn't know what was happening.
"I quickly grabbed all of the kids and put them in a room. I had my brother's gun with me just in case it came down to somebody breaking in to my home to you know hide from police officers. I was not trying to be in that situation," Gutierrez told WSMV4.
Police released a picture of the suspect connected to the shooting just before 3:30 p.m. A witness said the suspect was attempting to break into cars at The Parking Spot, a parking area near the Nashville International Airport, on Thursday afternoon. At one point, the witness said the man pulled a gun on the employee.
Traffic in the area of Donelson Pike, Claridge Drive and Shacklett Drive was closed for several hours as detectives, MNPD SWAT, and patrol officers searched for the suspect.
Jo Buie was in town heading to her hotel nearby the incident. She said because of the investigation it took her a long time before she could get to her hotel.
"When we got to Donelson Pike we were diverted back onto to the highway and it took us an hour and half to come all the way back around from the north on Donelson Pike to get to the hotel," Buie said.
Copyright 2023 WSMV. All rights reserved.