First Alert Forecast: Summer-like sizzle inbound
Temperatures in the 90s are expected for this weekend.
Published: May. 31, 2023 at 10:21 AM CDT
|
Updated: May. 31, 2023 at 6:39 PM CDT
NASHVILLE, Tenn. (WSMV) - Temperatures will be in the middle 80s today, but 90s are in the forecast this weekend.
As we remain under the influence of a hot and humid air mass, pop-up thundershowers are expected again today. Highs will be in the middle 80s and it will be humid. Any showers that do develop taper off after sunset and lows tonight will drop into the mid-60s.
Highs are in the upper 80s tomorrow with that humidity sticking around. A pop-up shower or storm is on the table for the afternoon, but not everyone is expected to see rain, just like today.
Temperatures will make a run at 90 on Friday with a mix of clouds and sunshine in the afternoon. Pop-up showers and/or storms are possible once again for the afternoon hours.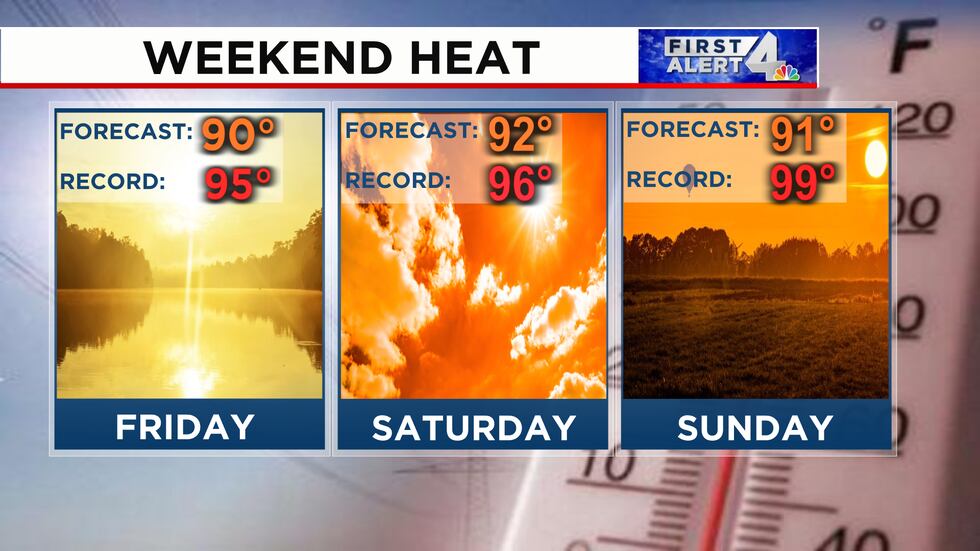 It's looking like a hot weekend with highs sticking around that 90 degree mark. It's not quite record breaking heat, but it's going to feel like the middle of summer. A stray shower is possible on Saturday, but otherwise, the weekend is looking mainly dry.
Monday and Tuesday will not be quite as hot. Highs will be in the upper 80s to start off next week. Both days will feature some good sunshine with an isolated afternoon rain shower.
Download the WSMV 4 First Alert Weather app for iPhone or Android, so you can stay informed on the go and in between newscasts. We share custom videos, plus you can choose to get messages from us on the latest conditions and forecasts.
Have weather pictures or videos? Share them here.
Copyright 2023 WSMV. All rights reserved.