First Alert Forecast: Pleasant holiday weekend with the slightest shower chance
A heat wave will develop over the Mid State by mid-late next week.
Published: May. 25, 2023 at 12:07 PM CDT
|
Updated: May. 25, 2023 at 2:27 PM CDT
NASHVILLE, Tenn. (WSMV) - The next several days will feature low humidity and pleasant temperatures for late spring.
Download the WSMV 4 First Alert Weather app for iPhone or Android. Our team of meteorologists will send alerts to your phone about conditions headed your way. They also share custom videos about the weather where you live.
Have weather pictures or videos? Share them here.
TODAY & TOMORROW:
This afternoon will be hazy and warm. There's some smoke in the sky from wildfires that continue to burn over western Canada. With that said, air quality over Middle Tennessee will just be moderate, as opposed to good.
Rain is not likely today. Rain chance -- 5%.
Highs will be in the low 80s.
Tonight will be pleasant with temperatures tumbling into the mid 50s by morning.
Tomorrow will be a lot likely today. We'll have a few fair weather clouds. It'll be slightly cooler, with highs around 80.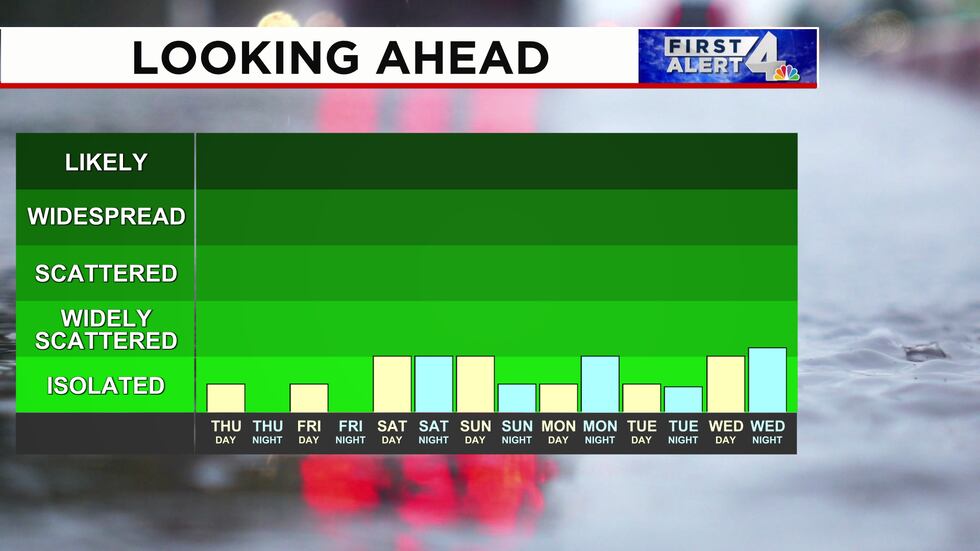 MEMORIAL DAY WEEKEND:
All three mornings during the upcoming holiday weekend will be cool and pleasant, in the 50s or low 60s. Humidity will continue to be low for late May.
Saturday will turn partly cloudy and warm with highs in the upper 70s. The rain chance will be very low, at 20%.
Sunday will feature more cloud cover and a slightly higher shower chance, especially along the Cumberland Plateau. Temperatures will be limited to the mid - upper 70s for highs. Sunday will be the coolest of the three weekend days.
Monday should be a little brighter and warmer. Right now, Monday looks like the best pool day this weekend with highs in the low 80s.
TUESDAY & BEYOND:
Hot weather will set up in the Mid State. Temperatures will near 90 degrees by Wednesday through Friday.
Copyright 2023 WSMV. All rights reserved.