St. Louis Circuit Attorney Kim Gardner resigns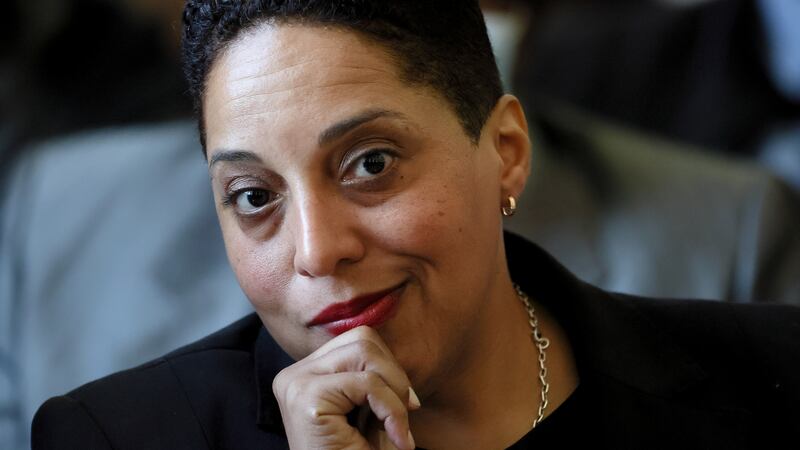 Published: May. 4, 2023 at 3:45 PM CDT
ST. LOUIS (KMOV) -- St. Louis Circuit Attorney Kim Gardner resigned Thursday amid a firestorm of legal troubles, including the Missouri Attorney General's attempt to oust her from office. The Circuit Attorney's Office confirmed the resignation, effective on June 1, on Twitter and in an email to News 4.
Multiple attorneys have resigned from the Circuit Attorney's Office since the attorney general announced his case against Gardner, which came after a defendant out on bond allegedly caused a crash that resulted in a 17-year-old's legs being amputated.
Missouri Attorney General Andrew Bailey has alleged Gardner willfully neglected the duties of her office. This week, a judge indicated there was enough evidence against Gardner's Office to proceed on seven of the 10 counts against her.
The Missouri Attorney General's Office sent News 4 the following statement after Gardner's announcement.
"There is absolutely no reason for the Circuit Attorney to remain in office until June 1st. We remain undeterred with our legal quest to forcibly remove her from office. Every day she remains puts the city of St. Louis in more danger. How many victims will there be between now and June 1st? How many defendants will have their constitutional rights violated? How many cases will continue to go unprosecuted?"
In addition to Bailey's case against Gardner, the Circuit Attorney's Office is facing two proceedings for contempt of court after the office failed to appear for two scheduled trials in April, one for a murder and the other for a shooting that injured an 11-year-old girl. A judge in the first case decided not to hold Gardner in contempt of court. In the second case, the judge said there was enough evidence to show that Gardner's office disrespected the judicial process. A special prosecutor was appointed Wednesday for that case.
Former Assistant Circuit Attorneys Chris Desilets, Natalia Ogurkiewicz, Nicholas Lake, Alex Polta, Adam Field, and Kiersten Heiman recently left the Circuit Attorney's Office. Chief Trial Assistant Marin Teer resigned in March.
Gardner was elected in 2016 and re-elected in 2020. One of Gardner's most notable achievements as circuit attorney was working to vacate the wrongful murder conviction of Lamar Johnson, who spent 28 years in prison. Johnson walked free in February after a judge vacated his conviction.
A spokesperson for the 22nd Judicial Circuit of St. Louis said the court is still concerned about the high number of criminal cases scheduled for trial.
"The judges of the 22nd Judicial Circuit in St. Louis remain committed to serving the people of our great city and are ready to work with the next Circuit Attorney. We hope St. Louis' next Circuit Attorney is successful in restoring stability to the Office and rebuilding its ranks with experienced prosecutors.

However, the judges of the 22nd Judicial Circuit remain deeply concerned about the high volume of serious criminal cases scheduled for trial in the coming weeks without assigned prosecutors. We remain hopeful that community stakeholders in the St. Louis region will work together to offer support and assistance to the new Circuit Attorney as quickly as possible."
LOCAL AND STATE LEADERS REACT TO GARDNER'S RESIGNATION
St. Louis Mayor Tishaura Jones said she hopes the governor will appoint a replacement that reflects the community's values in a statement:
"In February, I said Circuit Attorney Gardner should take accountability for her office and do some soul-searching to determine whether or not she wants to continue in her role. She has clearly taken that advice to heart by offering her resignation.
"Circuit Attorney Gardner made history by becoming the first Black woman to lead the office. There's no doubt she has faced more obstacles than her predecessors because of it. Our Circuit Attorney's Office is a critical public safety partner, and it must be managed and staffed effectively to help protect constitutional rights and deliver justice.
"No one wanted to see the Circuit Attorney's Office fail, and my administration has reached out consistently to the Office to offer assistance. We are hopeful that the governor will work with local leaders to appoint a successor who reflects the values of communities across St. Louis."
Gov. Mike Parson's statement on Gardner's resignation:
"Our office has officially been notified of the resignation of Circuit Attorney Kim Gardner, effective June 1, 2023.
We fully understand the gravity of this situation and approach our duty to appoint a replacement with the utmost seriousness. We will immediately start the replacement process according to the Missouri Constitution and Section 105.050, RSMo.
We are committed to finding a candidate who represents the community, values public safety, and can help restore faith in the City's criminal justice system."
Lt. Gov. Mike Kehoe released the following statement moments after Gardner announced her resignation:
"Kim Gardner's decision to resign as the St. Louis Circuit Attorney is a major step forward in restoring the rule of law in St. Louis. This is the only decision she has made during her tenure with which I agree.
Dysfunction in the St. Louis Circuit Attorney's office, and Kim Gardner's unwillingness to take violent crime seriously, has hindered St. Louis for years. This resignation is long overdue. Further, Kim Gardner should never run for this office again.
I was born and raised in St. Louis and I know the opportunities the city can provide. However, economic growth and success cannot take place in a lawless environment. I will continue to work with law enforcement and community leaders to help restore accountability and secure safety and justice for the people of St. Louis."
Jason Hall, the CEO of Greater St. Louis issued the below statement:
"The announcement of resignation by Kim Gardner is long overdue. As we have said for months, her incompetent management and unforgiveable failures have made our community less safe and criminals more emboldened. That combination failed the people who elected her and residents across the St. Louis metro.
"Violent crime is one of the largest barriers to economic growth and prosperity in our metro area. We hope new leadership in the Circuit Attorney's Office will bring clear focus on reducing violent crime, ensuring justice, and rebuilding trust in the criminal justice system.
"We offer our support to Governor Parson as he makes the critical selection of a replacement. We encourage him to appoint someone that can rebuild the office of the Circuit Attorney and who will work with regional leaders in the spirit of collaboration to develop a strategy to reduce violent crime and help our metro move forward."
Rep. Ann Wagner issued a statement on Twitter:
St. Louis City Board of Aldermen President Megan Green:
St. Louis County Prosecuting Attorney Wesley Bell sent News 4 the following statement after Gardner's announcement:
"Obviously this was an incredibly difficult decision for Circuit Attorney Gardner to make, and I wish her the best as she transitions into the next chapter of her life and career. As many people and stakeholders who care about this region and our collective safety understand, the Circuit Attorney's Office is vital to a thriving and safer St. Louis region. To that end, we stand ready to assist our City of St. Louis family in any way we can."
Copyright 2023 KMOV. All rights reserved.